XRumer Review – This Amazing Software Is A Must Have For Every Digital Marketer In 2022
XRumer Review
XRumer 23 Strong AI
Update: The makers of XRumer have stated on their official forums that in early 2023 a new version of XRumer is coming which is capable of using AI to mimic registration and posting on websites, this will be a huge game changer in the SEO world but do not fear, it will be developed alongside the regular XRumer software shown below.
I have personally used this software since 2008 in those days doing SEO (search engine optimization) was a heck of a lot easier than it is today, I could put the software on in the morning and my site(s) would rank number 1 or at least in the top 3 results by lunchtime.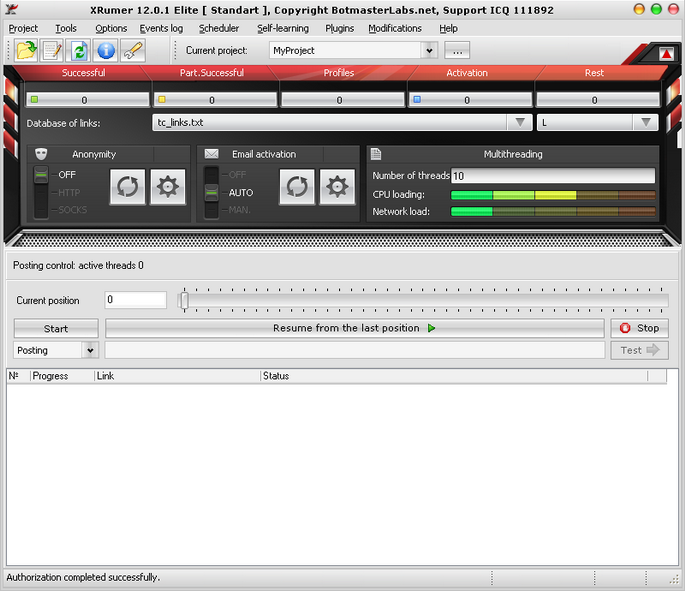 The above image is the UI or user interface of the software, although the version in the image is 12.0.1 the latest version at the time of writing this article is 19.0.9 not much has changed cosmetically but behind the scenes, there has been lots of additions bug fixes and tweaks that have been made to enhance the software.

The software is an absolute speed machine, the purpose and the usefulness of XRumer depend on what you want to use it for, here are some of the things you can use it to do, please do not use it to spam, you have to be far more inventive to get the best out of it these days and avoid site penalties.
Register on any forum at the same time bypassing text and graphical captchas.
Once registered successfully, you can then proceed to log in and post a thread or even just set it to reply to threads depending on your campaign needs.
Post comments on just about any blog type imaginable.
Post on guestbooks, again it will hit practically all types of guestbooks.
Post on contact us pages to get new leads (be careful not to just spam when doing this).
Post on Wikipedia-type pages.
These are just some of the tasks you can achieve using XRumer, it also can be trained to learn new fields to fill in, as well as the ability to learn new platforms, you must teach it by adding to the AI files, this is what makes it especially powerful.
It can post to just about any website you can imagine, and you will get access to the private forums which contain useful information from other users including tutorials on how to use the software and from time to time any freebies anyone is giving away.
Proxies are an important part of successfully running the software, your IP address will show up on just about every spam collecting site known to man if you are not careful, due your due diligence before paying for proxies as not all of the providers allow you to use them for XRumer.
One of the most unique features is the anti-spam module, this module scans a list of forums for the topics, and it will then using an algorithm check if your keywords are in the same thematic niche as the forum and post your link accordingly, this requires at least 16GB of RAM to work efficiently.
One thing to stress is to not use XRumer on a VPS! the developers recommend ONLY using the software on a dedicated server, not only will the hardware be more stable and perform faster, you are unlikely to get your license hacked or copied which has happened to me in the past so be careful.
Hrefer
Hrefer is a free tool you will get when you purchase XRumer, it's job is to scrape the search engines for forums, blogs and guestbooks (or any other type of platform you set it up to find) currently scrapes up to 13 search engines as of version 6.0.6.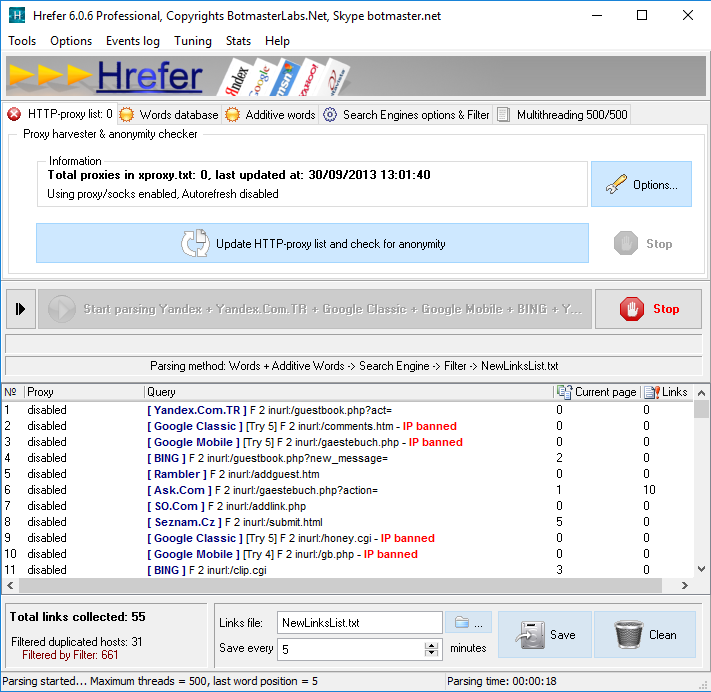 You are not only limited to the English language, you can scrape in any language you set up in the Words folder, you can use up to 500+ threads, just make sure you have scraped enough proxies, public proxies will work best as private ones will just be far too expensive.
With hrefer, you can collect millions of links, then just put the links into XRumers directory and let XRumer do the rest, it is best to do it by platform, meaning just scrape forums if you are doing a forum blast, and blogs if you are just doing a blogs blast etc, keep them all separate is my advice.
XEvil
XEvil is the beast that will do all the captcha solving automatically for you, including solving Google ReCaptcha version 2 and 3, as well as HCaptcha and FunCaptcha and just about every other type of graphical captcha you can think of.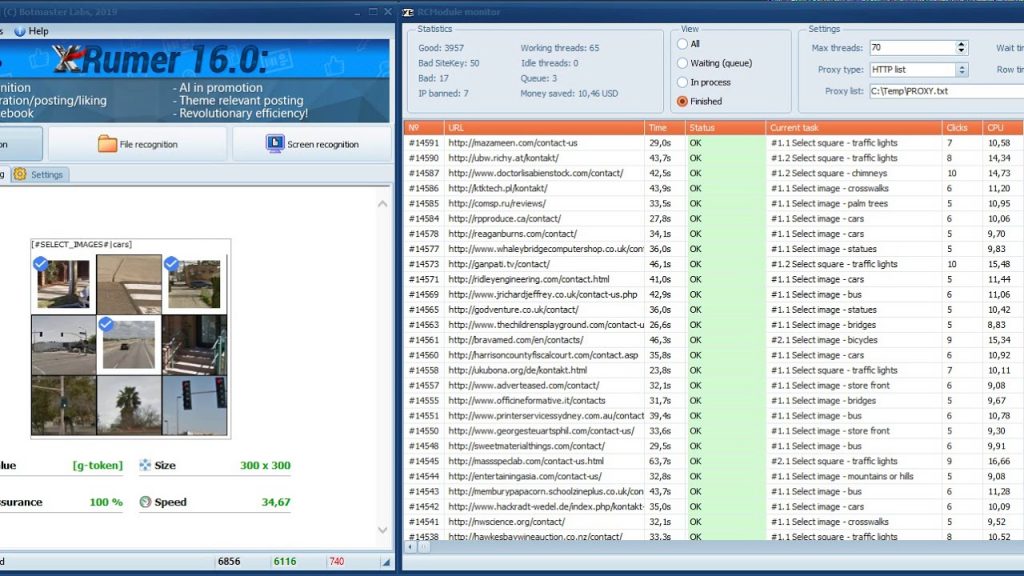 The above image is showing XEvil solving ReCAPTCHA V2 with no problem whatsoever, the latest version of XEvil will even solve V3 just as easily, you also don't need to use XEvil with only XRumer, you can use it with any software that requires captcha solving capabilities.
It is insanely powerful and the only tool on the market to date that solves that many different types of captcha, it will also show you exactly how much money it has saved you in paying 3rd part captcha solving companies which can charge up to $2.99 for 1000 ReCaptcha solves.
And a lot of the time the 3rd party companies don't get them right, which loses you money in the long run, saving hundreds of dollars per week is not unheard of when using XEvil, it depends ultimately on how big your campaign is.

The software has been one of the most consistent and constantly updated backlinks creating tools in the entire marketing world, it was developed by highly skilled Russian programmers way back in 2006 and development is still going strong in 2022.
XRumer Price
It should be noted that botmaster the developers have enforced the $10 per month subscription plan, for years they wavered this, but if you don't pay the $10 per month fee you will not be able to access XRumer or XEvil, Hrefer can still be used though, they offer 3 plans.
Plan 1 – $100 + $10 monthly fee (you are allowed to run 1 copy only)
Plan 2 – $240 + $10 monthly fee (you are allowed to run 2 copies) and access to XEvil.
Plan 3 – $400 + $10 monthly fee (you are allowed to run 5 copies) and access to XEvil.
Plan 2 is the best one, with plan 1 you will not get access to XEvil, the good thing is Hrefer comes bundled free with all plans, you need the 3 to run together to get the absolute best results from the software, although the prices seem high they are only a one-off.
Xrumer Software
It is worth noting the Xrumer software is not designed to work on mac systems, it has been optimized to work on windows based systems only as of the date of writing this article.
Xrumer VPS
To get the absolute best out of Xrumer you have to use it on a dedicated server or at the very least a VPS, there is no way it is safe to use it on your home PC, this is due to the bandwidth it would take up and complaints to your ISP from angry webmasters.
The VPS company I have used for more than 3 years is BlueHost SEO VPS they have been in the business for many years and even optimize their servers for SEO tools which is a very nice touch, the uptime is 99.9% which is great when your running tools 24/7.
Xrumer Proxies
You must also use proxies when using Xrumer, this is one of the rules that most VPS companies insist on. this will dramatically increase the number of successful submissions and posts you will get, if you compare both instances you will see what I'm talking about.
Conclusion
Having been in the online marketing game for more years than I care to remember this was the first piece of software I bought, it was all the rage and is still going strong in 2022 which should tell you something about the quality and dedication to their product.
I have seen many other software developers abandon their software overnight but not these guys, they continually improve XRumer with every update, they even have SocPlugin a social media plugin that is intended to post on Facebook and other Russian social media platforms.
I never found this to be too reliable, which is why I never mentioned them above, but you may find them beneficial, it entirely depends on what you need from the software, what is your goals? is it to get leads via contact forms and blogs or by posting on specific forum categories, you can do it all.
The choices are endless, if you want to post unlimited backlinks to your site(s) without having to pay each website owner a small fortune to place your backlink, then invest your money and time into XRumer, it will be the best investment you will ever make.