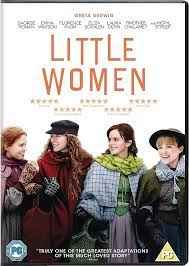 Little women, the story of the four March- Jo, Amy, Beth and Meg- sisters, as they grow up and grow into womanhood, and realise that life is not always hopes, dreams and everything else they thought it would be. The movie was produced from a book in 2019 and has amazing actresses and actors in it like timothee challome and Florence Pugh.
Little Woman cast!
The movie has many great A list celebrities, that's great acting makes the movie 10 times better.
Saoirse Ronan- Jo March
Florence Pugh- Amy March
Timothée Chalamet- Lawrie
Emma Watson- Meg March
Eliza Scanlen- Beth March
Meryl Streep- Aunt March
Laura Dern- Marmee March
Little Women plot.
SPOILERS AHEAD
Jo, Meg, Beth, and Amy March are four sisters living with their mother in New England. Their father is away serving as a chaplain in the Civil War, and the sisters struggle to support themselves and keep their household running despite the fact that the family recently lost its fortune. In the process, they become close friends with their wealthy neighbour, Theodore Laurence, known as "Laurie."
The movie opens with a smart young girl trying to sell a book to a quiet publisher and it getting criticized. Throughout the book we learn more about each sister, and their heartbreaking storys throughout life. We feel like we are growing with them throughout the film as they are growing up and we are watching them.
As the girls grow older, each faces her own personal demons and moral challenges. Jo, our beloved protagonist, must tame her tomboyish ways and learn to be more ladylike while pursuing her ambition to be a great writer. Meg, the oldest, must put aside her love of wealth and decides to follow her heart and become a loving wife and mother, showing how much she loves her family. Beth, the shy one, must conquer her fears and her love of music grows, while Amy, the youngest, has to sacrifice her pride to suit the family's expectations.
Through the story, we see Laurie fall deeply in love with protagonist Jo, however feelings are not being reciprocated, especially when he confesses his deep love, and Jo declines him leaving him feel distraught. Fast forward, several years and Laurie and Amy run into each other again, and we see that it is not only one March sister that Laurie manages to fall in love with.
Across the Atlantic sea, Laurie and Amy discover that they lack the genius to be great artists, but that they make an excellent romantic pairing. When Beth, who has never been strong, dies young and this part of the movie actually rips everyone's heart apart. Back in the States, Jo returns home to care for her bereaved parents and learns to embrace her loving, homely side.
In the end of the movie, we see a short clip of Jo's future. We see Jo opening a school in cantankerous Aunt March's mansion, surrounded by Baer- her loving husband and her sprawling family. But we also see Jo watching her novel being printed that she wrote and published, about the life of her family, little women. Her burgeoning career, we are positioned to believe, is what is really real, or at least what really matters.
Little women is an absolutely amazing story that brings a tear to everyone's eye, makes everyone laugh and smile, but most importantly, I feel like it leaves a mark, an impact on young, girls life. There are many scenes, and many impacting comments that can make a girls whole perspective on life change.
For more on little women, click here