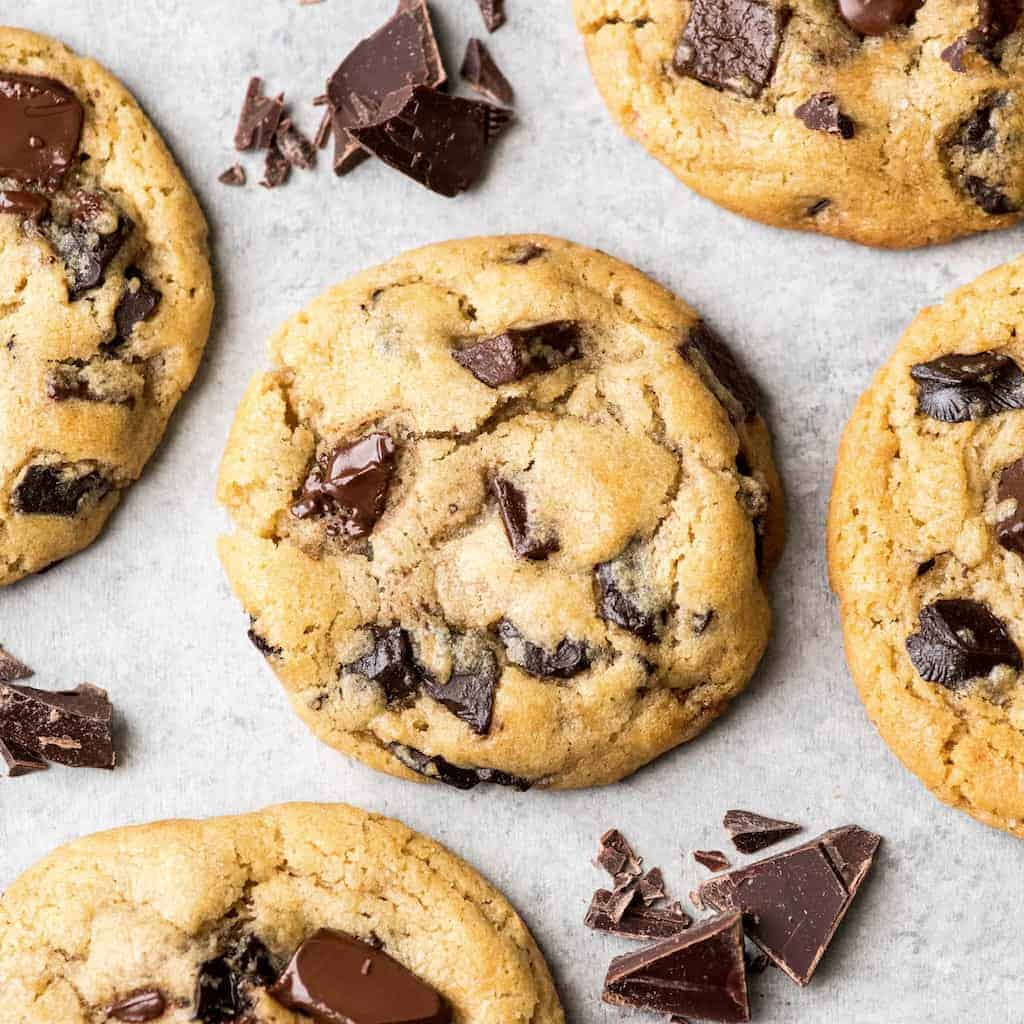 One of everyone's favourite recipes to make and eat, is chocolate chip cookies! So soft, warm and melting in the mouth, these chocolate cookies are perfect for you and the family, and even share them out amongst your co-workers and neighbours, they are too tasty to gatekeep!
Chocolate chip cookies are ready to eat in 30 minutes, and they taste amazing! These cookies require very few ingredients and not too much complex work, but they are still bursting with flavour, so keep reading to learn how to make them!
Chocolate Chip Cookies Ingredients!
The ingredients that you need to make the dream chocolate chip cookies-
100g Brown sugar
125g Unsalted butter
1 egg
1 1/2 Teaspoons vanilla essence
1/2 Teaspoons
225g SR flour
150g Chocolate (chopped or pre-done chips)
The equipment you need to make the cookies-
chopping board
veg knife
scales
large bowl
small bowl
wooden spoon
measuring spoons
plate
tray
You may pick up more as you go along, but this is the basics, time to make chocolate chip cookies!
Chocolate Chip Cookie Recipe-
Before we do anything, you want to pre heat your oven to 220 degrees or gas mark 6!
Weigh out your butter and sugar into a small bowls and then add it into the large bowl and cream them together using the back of a wooden spoon until it is light and fluffy. Make sure you cannot see the butter sugar in the creamed mixture, once it is ready use a spatula to scrape the sides of the bowls.
Whisk your egg in a cup using a fork and add in the vanilla essence, then add both of these ingredients into the large bowl with the creamed butter and sugar.
Weigh out your flour into a small bowl, and then get a sieve and sieve the flour into the mixture, add in a pinch of salt and stir the mixture well. This should form a dough!
Cut up your blocks of chocolate into really small pieces- basically until they are chips! You can use any flavour of chocolate it is completely up to you!
Add in your chips and mix them through the dough, making sure they are spread evenly, we would not want any cookies being chocolate chip less! Once all cookies are spread it is time to get onto the messy but best part, also not long now until you taste the awesome cookies!
Line a baking tray with parchment/ baking paper or you can simply grease one with butter, and then- with clean hands- and then dunk them in there! Roll your dough into small balls, roughly about 2 by 2cm, and place them evenly spread out on your tray. Make sure they are separated as much as possible, as when cookies are cooking they spread onto the tray, and if they are to close they will merge.
Once the cookies are all placed onto the tray/ trays- you may need multiple trays- pop them into your pre heated oven to bake, they will take 9-10 minutes, however if you are a fan of the famous 'It ends with Us', click here to see my review, you will have heard the life changing cookie hack of rotating the tray half way through, so after 5 minutes, I recommend rotating the tray!
After allowing your cookies to bake, allow hem to cool on a plate or a cooling rack and then they are ready to enjoy! I recommend eating them when they are still slightly warm!
If you would like to watch how to properly cream butter and sugar, click this link here!
Enjoy your chocolate chip cookies!