It Ends With Us Review – Truly A Masterpiece Ranked #1 In My Collection
It Ends With Us Review
It Ends With Us is a breathtaking book by Colleen Hoover. This book can take you through so many feelings and emotions in only a turn of a few pages! In 376 pages, 2 workaholics fall in love, and while Ryle can't seem to control his emotions, Lily can't seem to forget the past.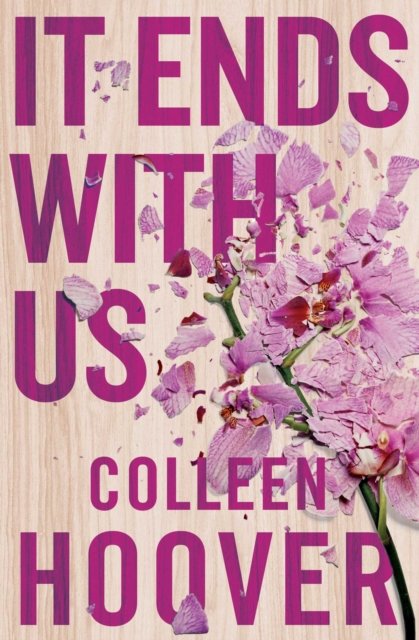 I read this book a few months ago, and it has to be the greatest book I have ever read. As the book starts, it seems as if it was a typical boy meeting a girl, and they then fall in love, a romance book, but as the story continues and things start to unravel, it is seen to be so much more than that! The many plot twists in the story cause jaw-droppers and take your breath away

I used to love reading, but for a few months I just couldn't find the time or patience to, and I always have to find a book I love and can't put down, for when I do read and trust me when I say this book made me fall in love all over again! Ever since I read this book, I read it every single day without complaints! The book only took me a few days to read, since I could never put it down!
It Ends With Us By Colleen Hoover
Colleen Hoover is an amazing author, and she deserves an award, especially for the beauty of It Ends With Us. Hoover discusses very serious and traumatic topics, like abuse and domestic violence, in her heartbreaking novel.
Hoover stated that "There were many times I wanted to change the story because I didn't want to take the characters to the places I was going to take them, but I knew I needed to. So while the novel is a work of fiction, its foundation is based on real events" which made the book a lot more heartfelt and genuine.
The events in the book are based on Hoover's mum and dad, which made everything a lot more upsetting to read and painful as we imagine the pain Hoover has experienced, and how she had to relive the memories whilst writing the novel.
It Ends With Us Blurb
When I first picked up It Ends With Us, it was mainly because I'd heard many great reviews on it. The book was so popular on social media and online that it convinced me to buy it, even with knowing very little about it. I had heard a lot of people saying it's the saddest book they had ever read or heard people arguing about "Atlas or Ryle" but didn't know much else about it, especially that it would be the best and most heartbreaking book I have ever read.
I read the blurb of the book, but it doesn't even give you an idea of how amazing the book is going to be. Lily hasn't always had it easy, but that's never stopped her from working hard for the life she wants.
She's come a long way from the small town in Maine where she grew up she graduated from college, moved to Boston, and started her own business. So when she feels a spark with a gorgeous neurosurgeon named Ryle Kincaid, everything in Lily's life suddenly seems almost too good to be true.
Ryle is assertive, stubborn, and maybe even a little arrogant. He's also sensitive, brilliant, and has a total soft spot for Lily. And the way he looks in scrubs certainly doesn't hurt. Lily can't get him out of her head.
But Ryle's complete aversion to relationships is disturbing. Even as Lily finds herself becoming the exception to his "no dating" rule, she can't help but wonder what made him that way in the first place.
As questions about her new relationship overwhelm her, so do thoughts of Atlas Corrigan — her first love and a link to the past she left behind. He was her kindred spirit, her protector. When Atlas suddenly reappears, everything Lily has built with Ryle is threatened
As I said, the blurb doesn't begin to describe just how emotional and heartfelt this best-selling novel is, and how much of a journey it will take you on.
It Ends With Us Quiz
We are in the process of developing a quiz to test everyone's general knowledge of this book, stay tuned we are nearly done and we will post a link as soon as we are finished!
It Ends With Us Online Copy
If you don't like paper or hardback copies of books there is always an online copy you can get by clicking on this link you will be able to get access pretty much straight away and get to read it when the kids are in bed or when you just have precious free time.
How Many Pages In It Ends With Us
There are 384 pages.
Conclusion
I one thousand per cent recommend this book to anyone and everyone. It takes you through a rollercoaster of emotions. The book digs its claws into you and doesn't let go until you are finished.
You will laugh with it, cry with it and smile with it, and your emotion could change completely within a paragraph. The book will make you fall in love, and then within a few pages, rip your heart out, over and over again. The best-selling novel makes you change your preconceived ideas about abuse, as you see it from the victim's point of view.
It is completely heartbreaking and traumatising as it makes you feel like you're right there with her experiencing it by her side. The story shows a woman's struggle to break the cycle of abuse and rise above to create a safe life.
It ends with Us using Ryle and Lily as examples to show that the thing that loves you the most, is also the same thing that can cause the most pain. Another serious topic discussed in It Ends With Us is Atlas's story. I feel that Atlas's story deserves a lot more attention than what it gets, considering he went through just
as much pain as Lily. I'm sure we are all happy hearing how Atlas got his happy ending, but all of our hearts broke and our souls were crushed hearing how much he went through, trying to get to this stage in his life. In conclusion, I loved everything about this book.
It Ends With Us made me fall back in love with reading again, and made me completely change my views and opinions on abuse, realising why it is so hard for someone to walk away. I 100% recommend this book, and I believe that this novel should never be left unread.