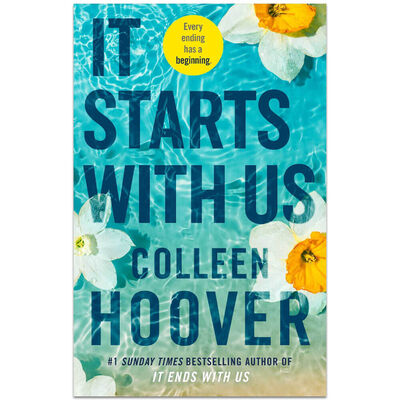 It starts with us by colleen hoover is taking over the internet right now- but is it worth it? The book prequel- It ends with us- took over TikTok in early 2022, but has been popular for long before that, but It starts with us ruining Hoover's reputation, or even worse, is it downgrading it ends with us?
Before I get into my review of this new book, I just want to say that I am a huge fan of Colleen Hoover, so if I talk bad about anything in the book I am not trying to demote Hoover in any way- I have done many reviews on her books and I am now reading another book of hers!
*MINOR SPOILERS AHEAD*
It Starts with us- It ends with us!
Now as we all know, It ends with us is a massive book that boomed in fame in late 2021/ early 2022, however, did you know the book was realised back in 2016?
The book is an emotional, touching story about a young girl who fell in love with the right person at, the wrong time, whilst having to watch her mum go through domestic abuse. Then, around 10 years after, this same girl meets a man who she thinks is the one until he commits violent actions towards her- but does it all start to look better when she runs into a familiar face from 10 years ago…
I loved it ends with us as a book, and it made me start to read so much more! The book was so heart-touching and emotional, and I loved how it shows you just how hard it would be to be in Lily's shoes!
So of course when I heard that CoHo was writing an addition to my beloved book- I had to pre-order it straight away! But do I regret this?
If you would like to read my full review of "It starts with us" just click the link here!
It Starts with us- In my opinion!
Overall, I would rate It starts with us a 7.5 out of 10, not the best but yet not the worst. It starts with us was a great book that touched many emotions, so obviously I was expecting to do the same! Did it? No. It didn't. it was a great boom that was very calming, but pretty lacking in emotional moments and storylines.
If you are a fan of books with hundreds of letters, then this one is definitely for you! The "Ellen" and the "Dear Lily" letters were a good addition to the story, and they were emotional at times, but they did not pull at any heartstrings just as much as It ends with Us did!
I do not regret reading this book, or even pre-ordering the book, but It was over hyped up for the release of the book- maybe if it was a book that did not link with IEWU I would not have got my hopes up to high and enjoyed it a lot more, however, I got them up HIGH!
I felt like the storyline of 'It Starts With Us' could have fit into a bonus chapter, or even just not been made at all. The whole story seemed to be, pointless. I felt like 'It ends with Us' had such a beautiful, inspiring ending that did not need to be continued, yet it was. It felt like the book was written mainly for publicity, fame and money, especially when 'It ends with us' was written as a tribute to Collen Hoover's mother who is a survivor of abuse herself!
Another point that my friend pointed out that I somewhat agree with Is that the story feels like it could have been written by a fan, or maybe an inexperienced author, published on 'Wattpad' rather than a CoHo book.
After all, that being said, I still really enjoyed this book! Even though it was a bit slow and not as good as everyone had hoped, there were some beautiful moments. I loved hearing all about Lily and Atlas's story, and how Lily was coping after the rough time she previously had. I hoped to hear if Ryle had had any character development, thinking Emerson would make him a better person, but I was wrong. Ryle was still the same, immature, arrogant person he was in the previous book!
The storyline and plot in this book that I enjoyed the most were Atlas, Sutton, Josh and Theo. I always wondered when reading IEWU if we would ever get to hear more about Atlas' back story, and we did! It was so touching and in-depth, I enjoyed it! However, It wasn't extremely emotional, but I don't think it needed to be! It was written perfectly, finding out about Josh and then Theo's 'It is my wish for you to be my fish' kind of jokes made the story even better!
Also getting a touch of conversation on Theo's sexuality was a big thing! I loved this part of the book as it made Theo's character a lot more interesting and made the book feel a lot more conclusive! Theo may just be one of my favourite characters in the book!
I also loved Marshall giving Lily the support she needed after an aggressive moment with Ryle- a friendship we never knew we needed!
Overall, It Starts With Us was a great book and I do not regret spending any time or money reading it! It was a good book, with funny moments and a few eye-watering seconds, and the characters and Atlas and Lily, Atlas and Sutton's storyline made the book, however, it did not need to be written.
To buy your copy of the book tock famous, 'It starts with us click here!