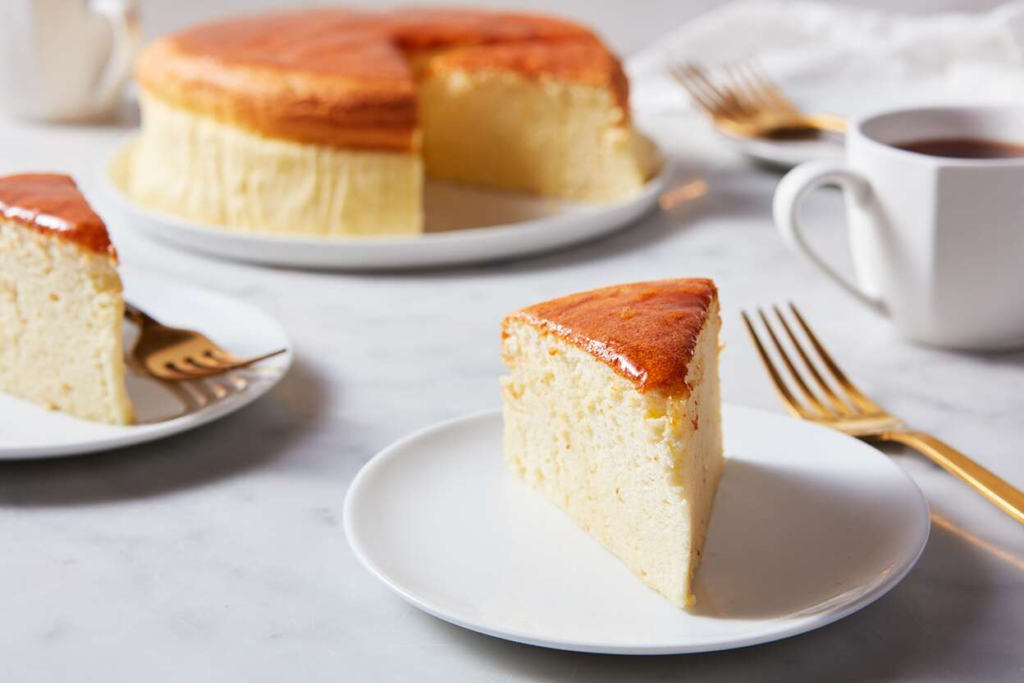 This absolutely amazing Japanese soufflé cheesecake honestly has my mouth watering at the thought, it tastes so good, is so easy to make and takes hardly any time to prepare- although I won't lie it takes a while to bake- and even the texture of the yummy cheesecake is so so so good!
This cheese cake serves around 6 to 8 slices, takes less than half an hour to prepare and around 1 to 2 hours to bake in the oven, and tastes so great. This is a combination of a soufflé and a cheesecake that is given a Japanese twist with a miso caramel topping. So what are you waiting for? Let's get straight into making this amazing Japanese style cheesecake!
Japanese soufflé cheesecake ingredients!
For the tasty cheesecake
55g/2oz butter
225g/8oz cream cheese
100g/3½oz granulated sugar
5 free-range eggs, separated
2 tbsp cornflour
35g/1¼oz plain flour (or rice flour)
125ml/4fl oz milk
¼ tsp cream of tartar
For the yummy miso caramel
100g/3½oz granulated sugar
3 tbsp golden syrup
30g/1oz salted butter
120ml/4fl oz double cream
1 tbsp white miso
That is all the ingredients that your amazing cheese cake requires to be bursting with flavour! Trust me it may seem like a lot, and this may sound like a lot of effort, but once you've started it is easy from then on, and trust me, it is super worth all the effort!
Japanese Soufflé cheesecake method!
Since we need to bake this cheese cake, start off by pre heating your oven to 180 degrees. Line the bottom of a 20cm/8in round cake tin with a circle of baking paper and line the sides with rectangular strips of baking paper, ensuring the tin is fully lined.
Place the cream cheese, half of the sugar and the butter over a low heat in a saucepan. Stir the ingredients together until they are melted and a smooth batter is formed. Remove the pan from the heat. Add 5 egg yolks to the pan. Mix gently whilst adding the cornflour and flour. Finally, pour in the milk and make sure everything is fully combined. The batter should end up smooth and runny, then beat the eggs, cream of tarter and then the remaining sugar into nice, stiff peaks in a bowl.
Mix a third of the egg white mixture into the batter. Then gently fold in the remaining egg white mixture, taking care not to overmix. This is the bit where it may start to seem a bit confusing and complicated, place the cake tin, into a deep but rectangular baking tin. Then, pour water in until it reaches halfway up the cake tin to create a bain-marie. Pour the batter into the cake tin and bake for 25 minutes.
Take out the cheesecake and check if it has risen nice and high, then put it back in the oven BUT, this bit is very important so listen carefully, rack open the oven door slightly and keep it open for approximately 10 seconds. Lower the oven temperature to about 140C/120C Fan/Gas 1 and bake for an additional 45 minutes. Leave the cheesecake to rest in the oven for about 10 minutes. The cheesecake can be served hot or cooled to room temperature and then served, completely your choice.
If you wish to make the caramel that pours over the top. Put the sugar, golden syrup and 2 tablespoons water in a small saucepan and heat gently, stirring until the sugar has dissolved, then bring the mixture to a simmer. Cook this under it turns to a dark orange colour, while your doing this melt the butter in a sauce pan and whisk in the cream and miso. Whisk the miso cream into the sugar mixture. Simmer for 1–2 minutes until thickened, then remove from the heat and leave to cool slightly. Drizzle the caramel over the cheesecake and serve.
Your Japanese Soufflé cheesecake is ready!
For more cheesecake recipes, click here!
For other articles and recipes like this soufflé cheesecake, click here!