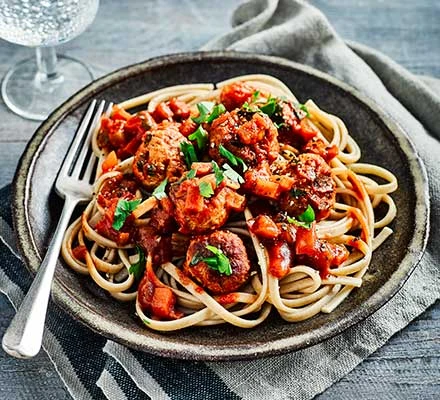 These slow cooker meatballs are the most amazing things that will ever come out of your slow cooker I can guarantee it! The taste is amazing, they are healthy and a perfect recipe that the whole family will enjoy! And, there is hardly any effort put into these as they are from the slow cooker!- which is also a much better alternative in itself!
These low in fat, but high in protein meatballs are also freezable which makes it so much better as well as it ensures that they will last even longer! Kids often love a lighter mince, therefore you can use turkey mince to create this!
They only have 260 kcal, 5g fat, 21g carbs and they have a full 29g of protein! So, these are easy, healthy and amazing! So why should I even say anymore, let us get straight into it!
Slow cooker meatballs- ingredients!
This recipe surprisingly doesn't require a lot of ingredients, but do not worry because they are not lacking in flavour at all!
1 tbsp rapeseed oil
1 onion, finely chopped
2 carrots, finely diced
2 celery sticks, finely diced
2 garlic cloves, thinly sliced
500g carton tomato passata
2 tbsp chopped parsley

For the meatballs
400g lean mince turkey
4 tbsp porridge oats
pinch paprika
1 garlic clove, crushed
spray of oil
And that is it! Now all that we require is the super easy recipe that does not take much effort, and then we can just throw it all into the slow cooker, and let it cook away!
Slow cooker meatballs- method!
If your slow cooker is one that you need to preheat, this is your first step, pre heating it! Once you have heated the cooker, heat the oil in a non-stick frying pan and add the onion, carrots, celery and garlic and fry gently for a minute.
Once you have completed adding in the veg, pour in the passata, add in the parsley and then stir it all together. After this transfer the lot, all of your so far prepped ingredients into the slow cooker!
To make the MEATBALLS
Now we are onto the process of making the right meatballs, start off by weighing and measuring the mince into a large bowl. Add in the oats to the bowl, the paprika, the garlic and plenty of black pepper then dip your hands in and start mixing it with your hands!
Divide the mixture into 20 lumps about the size of a walnut and roll each piece into a meatball. Then, moving onto the tray, spraying or running over a non stick pan with a little bit of oil just to prepare the tray. If you want, you can chill your meatballs just to make them taste more fresh and more firm, in the fridge for about an hour, however this step is not essential.
Cook the meatballs until they get golden brown, and then add them into the tomato sauce base and cook on low for around 5 hours. During the 5 hours you can go to work, clean the house, do whatever you feel like and just let them cook away! Once the time is over, take one and cut a bit off to make sure they are cooked the full way through.
If they are fully cooked, they are ready to serve! You can serve these on pasta or rice, and make sure to add a lot of the tomato based sauce to make sure the food is not dry!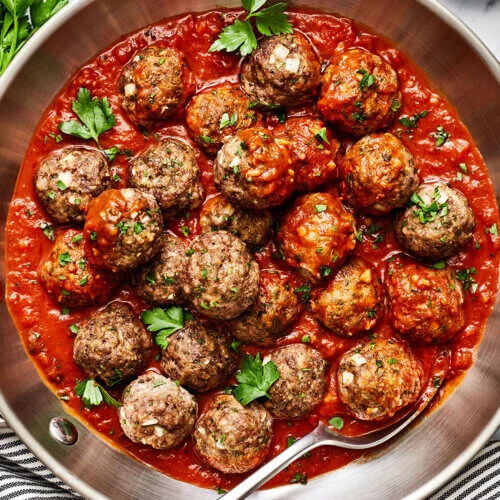 To purchase a slow cooker, just click here!
For more like this, click here!