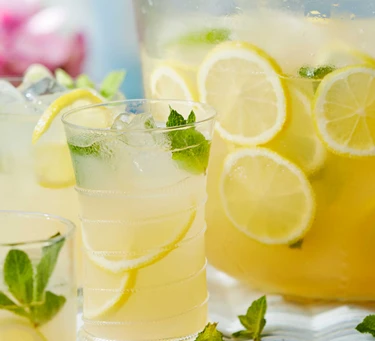 Are you holding a summer BBQ? Or a summer drinks night? Do you want to impress the guests and woo them all with these amazing, tasty summer drinks? Maybe your just having a quiet one in but its sunny, so why not make one of these cute little drinks? No matter what the occasion is and when, it's finally summer so why not make some drinks suitable to the season!
no.1- Pimm's!
The first one is the one and only Pimm's! A classic summer drink that gets everyone in the sunny mood, a sweet strawberry taste, serve this fruity punch with fresh mint leaves, cucumber, orange and strawberries so what's not to love? It is easy to make, ready in under 5 minutes and serves 4-5.
Pimm's ingredients
200ml Pimm's No. 1
600ml lemonade
mint sprigs, sliced cucumber, sliced orange and strawberries, to serve
Pimms method
Start off by filling a jug with ice and pour over the Pimm's and lemonade, most jugs come with lines which tell you where to fill to, but if not just use a measuring jug to measure it all out. Give it a good stir then add the mint, cucumber and fruit. And that's you ready! Enjoy this amazing drink and get ready to be in the summer mood!
N0.2- Apple prosecco punch!
Spritz up your summer with this apple prosecco punch, making everyone's summer a bit more fruity, fizzy and exciting! This super easy but tasty recipe does not require much work, and here is what you have to do!
Ingredients!
400ml cloudy apple juice
200ml vodka
juice 2 lemons
750ml prosecco
ice
1 green apple, cored and finely sliced
1 lemon, sliced
Methods
Start off by pouring the apple juice, vodka and lemon juice into a punch bowl and chill for 1 to 2 hours. If you want to add edible glitter, this is now the time. Then, when you're ready to serve add the prosecco, ice and apple and lemon slices to garnish. Some people like to top it off with a bit of lemonade to give it an extra but that is up to you!
Serve it in chilled glasses with a sugar rim and from then on, it is up to you! Enjoy and drink responsibly!
N0.3- fruit punch!
Make this fruit punch as a non-alcoholic drink for a summer party. With fresh fruit, mint, juice and lemonade, it's wonderfully refreshing as well as healthy!
8-10 strawberries, halved or sliced
½ orange, sliced
½ lemon, sliced
handful of mint leaves
large handful of ice
500ml pineapple juice
300ml orange juice
300ml lemonade
The method is really easy, all you need to do is put all of the fruit, ice and mint into a large jug. Pour in all of the juice and then fill to the top of the jug, finishing it off, with lemonade.
NO.4- Vodka punch!
One of my favourite summer drinks, this punch is super easy to make, is ideal for parties, easy and effortless to serve and filled with crowed favourite fruity flavours!
300ml vodka
200ml triple sec
100ml lime juice
50g caster sugar
250ml pineapple juice
250ml tropical juice
ice
125ml sparkling water
few mint sprigs
1 peeled and sliced kiwi
1 orange sliced
handful raspberries or mixed berries
Pour the vodka and triple sec into a large punch bowl. Mix the lime juice and sugar together in a glass or jug until the sugar has dissolved, then add that to the bowl. Pour in the fruit juices, then add lots of ice and stir. Pour in the sparkling water, mint, sliced fruit mint and berries. Now onto the next summer drinks!
NO.5- Fruity wine punch!
The final but not least, amazing summer drink. The perfect recipe to make summer more fruity with a twist, and spice up any picnic!
400ml lemonade
handful blueberries
ice cubes
bottle white wine, such as Chardonnay
sprigs of mint
Pour the lemonade into a thermos along with a handful blueberries and plenty of ice cubes.
At the picnic, stir together in a jug with a bottle of fruity white wine, such as chardonnay, and serve with sprigs of mint.
For more recipes for summer drinks, click here!
For more articles like this, recipes to go with the summer drinks, click here!