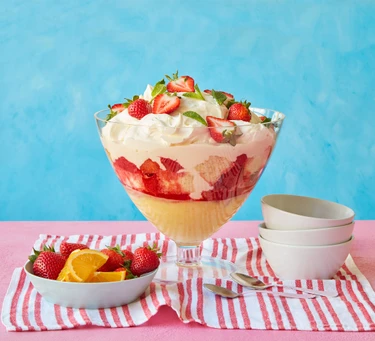 Summer is here which means it is finally time for all the tennis lovers to join and unite for Wimbledon. New recipes, new tennis games and new chit chat amongst all of the fans. Are you planning on having a garden party to celebrate? Or maybe just want to make a nice wee dessert for us all to enjoy.
Celebrate the All England Tennis Championships with tasty summer recipes, from strawberry treats to picnic feasts, all washed down with a summer cup.
They are tasty, and the full family will enjoy, and they are easy and quick to prepare, they also dress up your dinner table, wo what is not to love!
Wimbledon- Eton Mess
When you think of a summer dessert, do you not just think of a fruity, creamy eton mess. This recipe is describing a crunchy meringue, whipped cream and strawberry sauce is a winning combination, which is best served al fresco.nf
These are gluten free with around 498 kcal per serving, and require hardly any ingredients, and makes 6 servings! The ingredients this desert requires is-
2 large egg whites
120g caster sugar
500g strawberries, hulled and roughly chopped
450ml double cream
1 tbsp icing sugar`
The first step is heating up the oven to 120C/ or 100C fan and gas 1and line a large baking tray with parchment or baking paper. Whisk up all the egg whites in a clean bowl and using an electric whisk or table top mix, until they reach stiff peaks, then add the sugar in 3 lots, re-whisking to stiff peaks every time. Spoon dollops of the mixture onto the baking parchment, cook on the bottom shelf of the oven for 1hr – 1hr15 mins until the meringues are completely hard and come off the paper easily. Leave to cool.
Then blitz 1/3 strawberry's to make strawberry sauce (or you could just buy a ready made one if your feeling sneaky, no one needs to know, am I right?) In a large bowl whisk the cream with the icing sugar until it just holds its shape. Roughly crush ¾ of the meringues and tip them in with the chopped strawberries and stir, then swirl through the strawberry sauce. Put it all into your Sunday glasses then top with the remaining meringue pieces.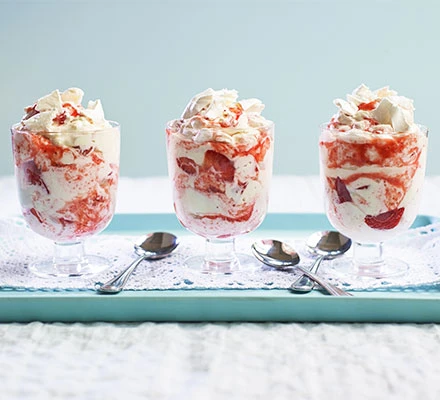 Wimbledon Pimm's scones!
What is two things that instantly make you think of Wimbledon? Pimm's and scones? well, lets combine then for you to instantly have the best, most perfect Wimbledon snack. These will go down great at a summer party.
Here are the ingredients that you will need to make this delicious recipe-
300g self-raising flour
½ tsp baking powder
70g cold butter, cut into small cubes
30g golden caster sugar
zest 2 lemons
150ml buttermilk
2 tbsp full-fat milk
and the ingredients that are needed for the fruit is-
3 tbsp Pimm's
1 tbsp golden caster sugar
300g pack strawberries, hulled and sliced
1 large orange, cut into cubes
handful mint, leaves picked
ingredients for the cream-
300ml double cream
2 tbsp icing sugar
50ml Pimm's
The method for these scones are pretty simple, and easy and do not require much work.
start off by pre heating your oven to 220C and cover a baking tray with baking paper. Put the flour and baking powder in a large bowl, add a pinch of salt, then rub in the butter with your fingertips until it is mostly incorporated – unlike pastry, you don't need to worry about rubbing the butter in too finely.
Stir the lemon zest and sugar in to the mix and then in a jug, mix the buttermilk with the milk. Make a well in the centre of the flour mixture, then pour in the liquid. Use a knife to bring the dough all together.
Tip the dough out onto a wiped clean surface and kneed it all together with your hands. Patting is better than rolling so that you don't overwork the dough. Stamp out eight scones with a 7cm fluted cutter – you'll need to reshape the dough once from the trimmings. Place your scones on the baking sheet and bake on the top shelf of the oven for around 10 minutes until risen and golden on top. Cool them down on cooling rack.
Mix the Pimm's and caster sugar in a bowl. Stir in the fruit, cover and infuse in the fridge for 1 hr, then stir in the mint leaves. In a large bowl, whisk the cream, icing sugar and Pimm's until it holds its shape, nice and firm.
Halve the cooled scones. Top the bottom half with a spoonful of cream and a spoonful of fruit, drizzle over some of the syrup, then sandwich with the top half. Then that is your scones finished!
Wimbledon egg and cress finger sandwhich!
These finger sandwiches are an amazing thing to serve at a gathering or a social event, especially a summer garden party!
Ingredients to make this family favourite Wimbledon sandwich-
2 eggs
2 tbsp mayonnaise
3 slices bread
a little butter
⅓ carton of cress
2-3 slices of tomato or a lettuce leaf and a slice of ham or cheese
crisps, to serve if you are serving these sandwiches up on a plate.
We are going to start off preparing your eggs for the Wimbledon sandwich filling! Bring a pan of water to the boil and carefully lower in the eggs. Cook for 6 mins, then cool under running water until they can be peeled. Peel the eggs, then leave to cool completely.
Mash up or chop your eggs and then mix with one and a half and some seasoning if you like. Then toast the bread. Lay one slice of bread on a board. Butter it, then spread on three quarters of the egg and scatter over the cress. Add another slice of toast and gently spread on the remaining mayo. Add in the extra topping like salad that you chose and cut the crusts off if you like, then gently cut the sandwich into four quarters, being careful not to squash out the egg. Skewer each sandwich with a sandwich pick.
For more articles just like this, click here!
For more Wimbledon recipes, click here!