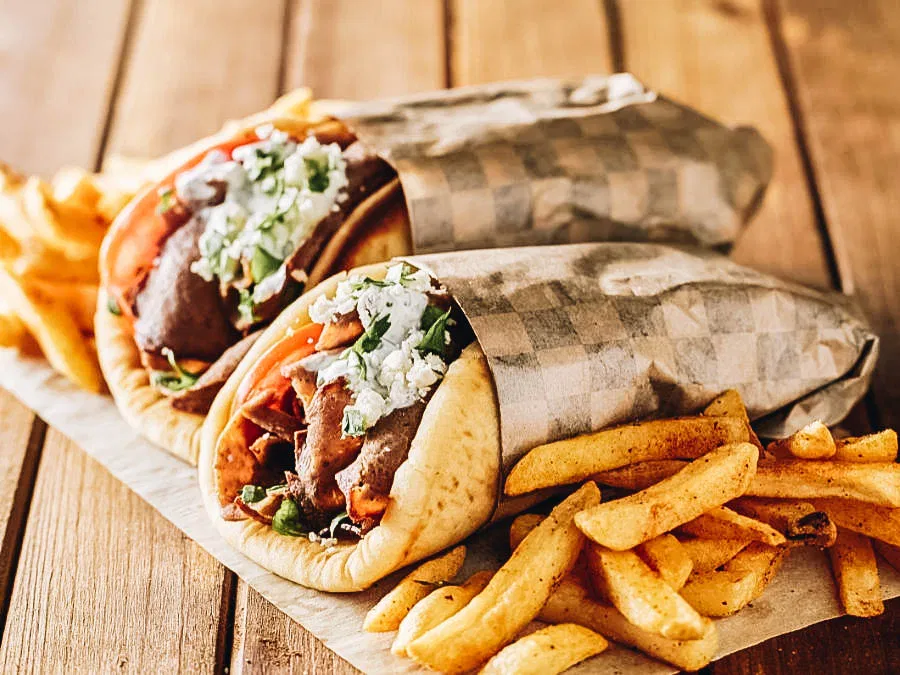 Greece
Greece is a lovely country. The heat, the culture, and the scenery; it is all beautiful. They do many cultural activities, including smashing plates, however, when I visited Greece there was one thing in particular that I loved and thought was amazing. The food!
Greece has many tasty foods, that are also linked to their culture. If you keep reading, I'm going to share all the best foods, and my opinions on them so that when you go to Greece you know all about the delicious foods!
Greek Gyros
This one is my favourite food. Gyros is traditionally meat cooked on a vertical rotisserie (often referred to as a kebab), (traditionally pork, or chicken) and usually served wrapped in a flatbread called pita, and tomato, onion, fries and tzatziki sauce, which is a sauce made from yoghurt, drained cucumber, olive oil, fresh herbs (usually mint or dill), garlic, lemon juice and salt. However, sometimes gyros have lettuce but I did not try any with lettuce.
The term gyro represents a ring or circle and refers to the rotation of the meat as it is cooked. Greek historians attribute the origin of the dish to soldiers from the army of Alexander the Great, who skewered the meat with long knives and cooked it by repeated turning over an open fire. The word gyro is pronounced like gee-roo.
Gyros are pretty easy to make! Get your pita and spread tzatziki over the base of the pita. Grab a couple of slices of onion and place them in the middle of the pita. Then place some tomato slices in the middle on top of the onion. Get a few bits of your chosen meat, usually pork or chicken, and add them to your pita, and then just grab a few fries and add them in! Wrap the pita and you are ready to enjoy!
If you'd like a more detailed recipe on how to make the famous Greek gyros, click here!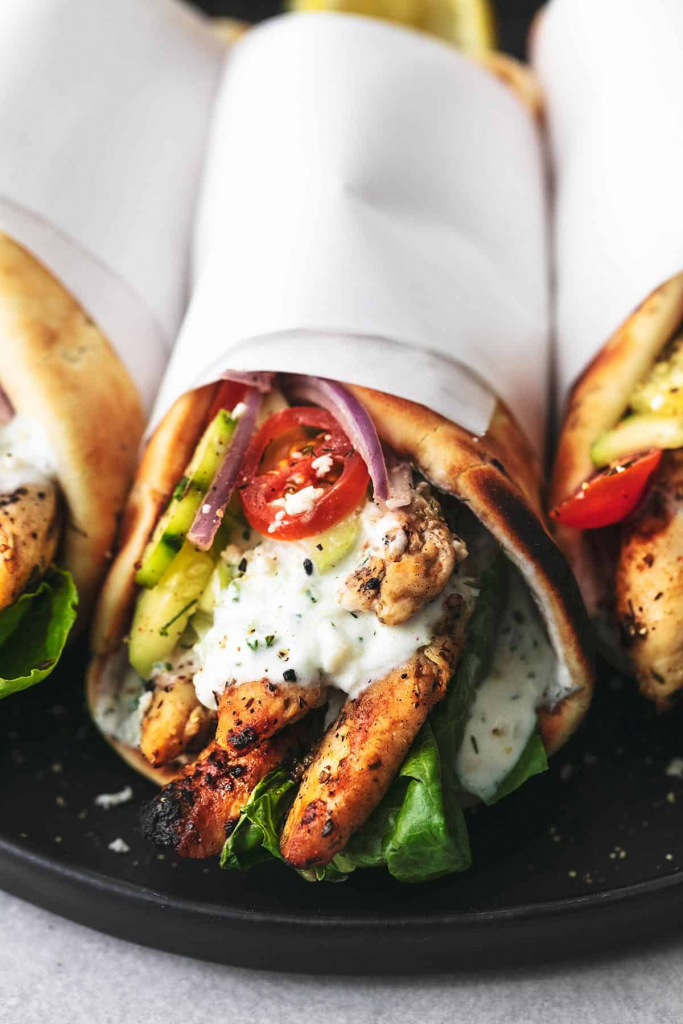 Greek Salads
When I visited Greece, there were many great salads! One that struck me, in particular, was feta cheese salad. Feta, fresh, white, soft or semisoft cheese of Greece, was initially made exclusively from goat's or sheep's milk but in current times contains cow's milk. The delicious cheese is used for many uses in Greece, but the salads were delicious. Greek Feta is filled with flavor, ravishing in its simplicity and spectacularly sensual. It's creamy, rich, a little salty and a bit tangy, but not at all sour.
If you would like to make a feta cheese salad all you need is sliced cucumbers, tomatoes, green bell pepper, red onion, olives, and feta cheese. Chop or slice it all, and add it into a bowl and there you go! Some people like to add oil or dressing but it is completely up to you!
If you'd like to use a more detailed recipe, again, click here!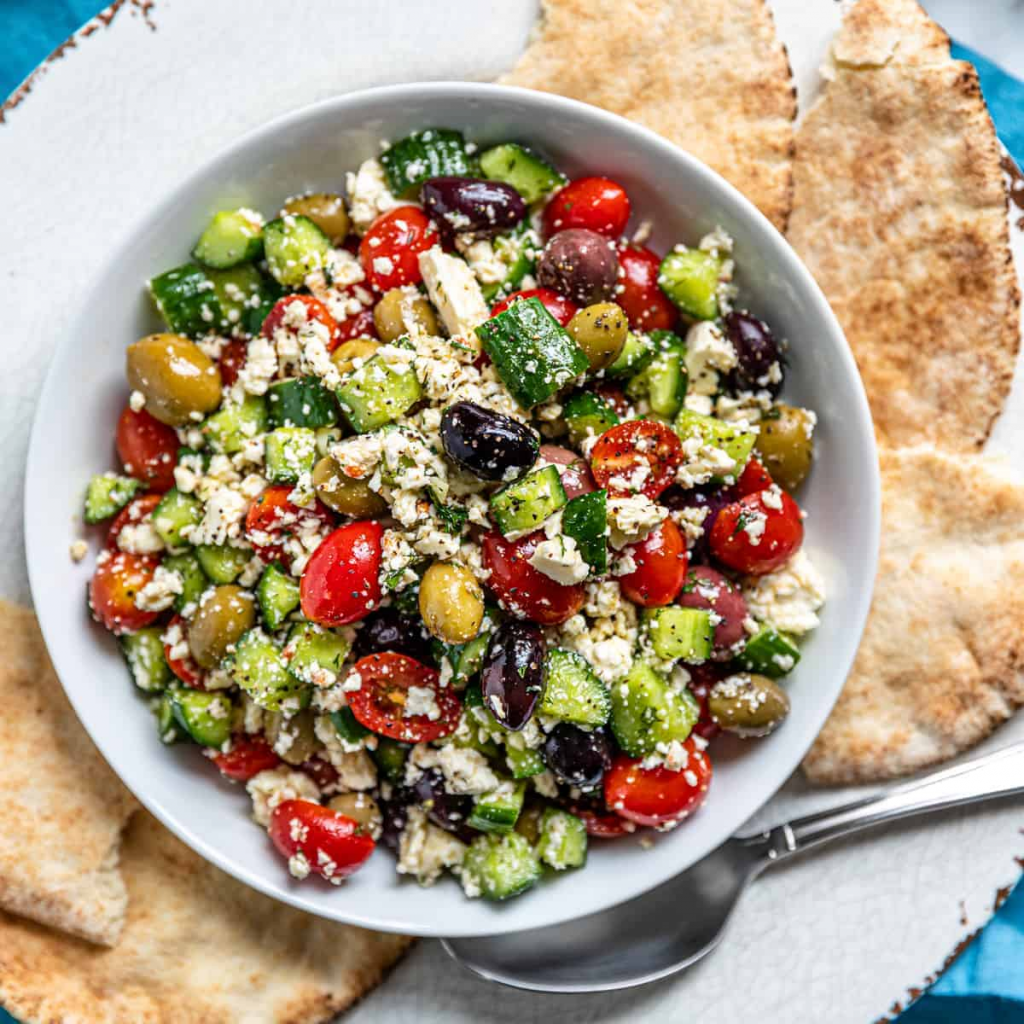 Oils
When we are on the topic of salads, let's talk about dressings. When I was in Greece, there were hundreds of types of oils or salad dressings, for example, olive oil or balsamic vinegar. At dinner, if you were having some salads there was always different bottles of oils or dressing labelled with a different name.
It's not just salads that are covered in oil in this country, but they cover a lot of foods in it as well! Olive oil is a massive part of Greek cuisine and culture. It is used to dress pans before cooking and poured over Greek salads, cheeses and lots more to eat. As a matter of fact, most Greeks get a majority of their daily fat from this healthy source.
Because of its rich winemaking tradition, the most common type of vinegar that can be found in Greece is wine vinegar. They sell and provide lots of kinds of vinegar and oils around Greece and you should really check this out when you are there!
We hope if you go to Greece, you'll take our advice and try these delicious greek foods!
For a lovely recipe of lemon and chicken stirfry, click here