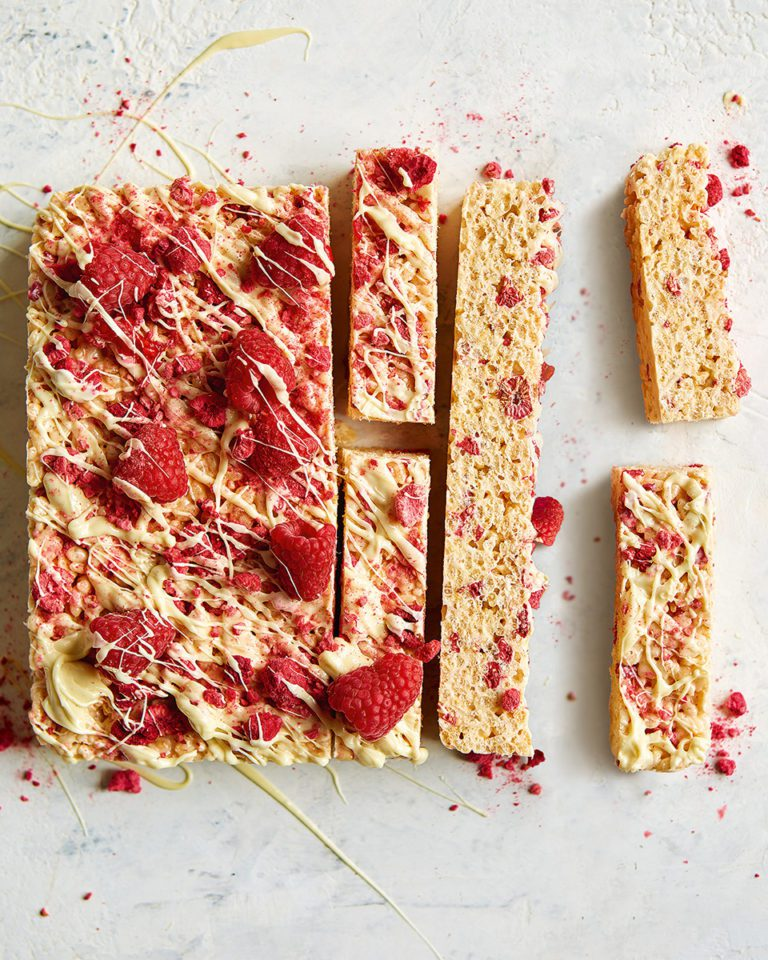 Raspberry and white chocolate rice crispy bars. These bars are a perfect bake for the upcoming Easter season, and we say the kids will love them; however, sometimes, the adults love them even more! If you ask me, I can't think of a better treat than that.
This a super easy recipe with a delicious outcome. If you want to sit down and eat all bars at once because they take that good, we won't judge you! This recipe is made to prepare 12 bars and only takes 15 minutes! However, it takes an hour to cool, but they are worth the wait!
For more articles and reviews with recipes like this, try this link here!
Raspberry and white chocolate rice Krispy bars – ingredients!
Starting with the butter, you will need 85 grams of unsalted butter and a little extra used to grease.
For the base, you will need 200 grams of white marshmallows.
This one is optional but recommended; you need 1/2 tsp of vanilla extract!
100g white chocolate, finely chopped or ready-bought chips!
170g puffed rice cereal [we used Rice Krispies, these are recommended]
12-15g of freeze-dried raspberries and a little leftover for decoration.
Oil to grease, again, this is optional
fresh raspberries, also optional, is used for decorating!
This is not an ingredient, but you will also need a 20cm square cake tin to bake your tray!
And that's it, that's all the ingredients you need for your soon-to-be new favourite snack to be bursting with flavour!
Raspberry and white chocolate rice crispy bars – method!
The first step is preparing a cake tin. Lightly grease the sides and bottom of a baking container with the extra butter or oil and line it with baking paper.
If you add vanilla extract to your recipe, this is your time to shine! Melt the 85 grams of butter and marshmallows in a large pan on low heat, and keep stirring until smooth, as marshmallows are easy to burn. Add half the white chocolate, and mix it until it is all melted and incorporated, then remove the pan from the heat.
Weigh out the puffed rice cereal and stir it, then weigh the freeze-dried raspberries out and add them to the mixture. Stir it all well until everything is coated, and pour the mixture into the earlier prepared baking tin. Then, use a damp hand or lightly oiled spoon to press the mixture into the container, smoothing the top. Chill until set, which will take about one hour.
Whilst setting, or towards the end, melt the remaining chocolate in a bowl over a pan of barely simmering water or in a microwave for 20-second stages, stirring in between. Once the tray bake has been set, remove it from the tin, and sprinkle with more freeze-dried and fresh raspberries if you use them! Then drizzle the melted white chocolate over the top.
You can leave the chocolate to set or tuck into the bars now, but I recommend going them for at least a while. Slice into 12 even-sized pieces, and then your raspberry and white chocolate rice Krispy bars are ready to serve!
The raspberry and white chocolate rice Krispy bars will keep in an airtight bag or container in the fridge for 3-4 days!
That's it! Your raspberry and white chocolate rice Krispy bars are done and delicious!
To buy freeze-dried raspberries, click this link here!