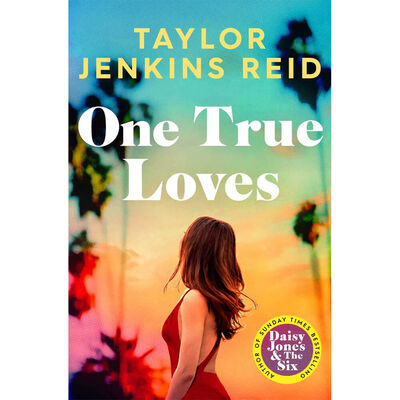 The most recent book I read was Taylor Jenkins Reid's 'One True Love. The book is about a young couple, high school sweethearts, that fall in love and decide to travel the world, exploring new things and seeing new places, until the day before their first anniversary, he gets on a helicopter to travel not realising he would not be back by next week. A few years later once she has moved on, at her engagement dinner she receives a call, from not anyone but Jesse, her late husband.

Now I know what you're probably thinking, this sounds like a great book, who wouldn't love this? Well, to be honest, me. I did not like this book as much as I was expected to like it, even though everyone seems to hype it up and say that it is great. I felt that it was 'cringy' and rather slow to read, most nights I look forward to having a read before bed and with 'One True Loves' I was looking for any excuse not to read it!
One True Loves Author
I Would like to start by saying that it was not the author's fault, as I have read a few of her books before and loved them, like The 7 husbands Of evelyn hugo, I felt this was a great book – click here to see my review on that – so in no way do I feel that I did not enjoy this book due to the authors writing or skills and techniques, it just did not stand out to me!
Taylor Jenkins Reid is a 38-year-old American Author, and she has written many famous novels. She is known for stories like The Seven Husbands of evelyn Hugo, Daisy Jones and The Six, Malibu Rising, and of course, One True Love.
One True Love is an upcoming film, and I will check that out when I get a chance, but I am in no rush just like I would not rush back to reading the book again!
One True Loves Blurb
In her twenties, Emma Blair marries her high school sweetheart, Jesse. They build a life for themselves, far away from the expectations of their parents and the people of their hometown in Massachusetts. They travel the world together, living life to the fullest and seizing every opportunity for adventure.

On their first wedding anniversary, Jesse is on a helicopter over the Pacific when it goes missing. Just like that, Jesse is gone forever.

Emma quits her job and moves home to put her life back together. Years later, now in her thirties, Emma runs into an old friend, Sam, and finds herself falling in love again. When Emma and Sam decided to get engaged, it feels like Emma's second chance at happiness.

That is until Jesse is found. He's alive, and he's been trying all these years to come home to her. With a husband and a fiancé, Emma has to now figure out who she is and what she wants, while trying to protect the ones she loves.

Who is her one true love? What does it mean to love truly?

Emma knows she has to listen to her heart. She's just not sure what it's saying.
Again, as I mentioned in my summary at the start, I feel like this makes the book appealing and sound like it would be a great read, but I felt like it took ages to get to the point, and lots of events, conversations and thoughts were dragged on and got to the stage where it was pointless. The way I explained this to my friend was "It felt like Jenkins Reid had been told that it had to consist of 352 pages for it to publish, so she did everything she could to continue the story until she got to this amount."
The book started well, as we hear about Emma's high school journey and how she and Jesse found love together, but as the story went on, it felt more dragged out. I'm not saying that this full book was terrible, there were some points where I did want to keep reading and see what was going to happen next, but usually, with other books, I physically cannot stop reading, and I do not want to put the book down, but I didn't get to that stage with this book!
* MAJOR SPOILERS AHEAD- BEWARE*
At the point where Emma was choosing between Jesse and Sam, I felt like this should have been a lot more exciting than it was made out to be. This could have been a big, exciting decision that made reading it a lot more exciting thinking "Who will Emma choose" But sadly I felt like it was a very predictable moment.
Also the part in the cabin, where Emma told Jesse she no longer knew Jesse and was in love with Sam was a very emotional few chapters and I do feel like this was one of the most well written and most emotion was put into this part in the book, however, again it was a bit of an anti-climax. I felt like it could have been written a lot better and this part of the novel had a lot more potential than what was used.
And finally, Emma and Sam's reunion was a bit disappointing. Sure It was emotional, and it did warm my heart a bit when I got to this stage, but this also could have been written a lot better and a lot more emotion shown. They should have been a lot more excited and emotional, but it felt very rushed. Maybe my heart warmed a bit because I was happy for the love birds reuniting or maybe it was warming. After all, I realised I was near the end.
One True Loves – overall
Overall, I do not recommend this book, but maybe I have sold it to you and convinced you to read it- who knows, you might like it! I would rate this book 6.5/10 because even though it was poorly written and slow in my opinion, it had great potential and a great storyline!