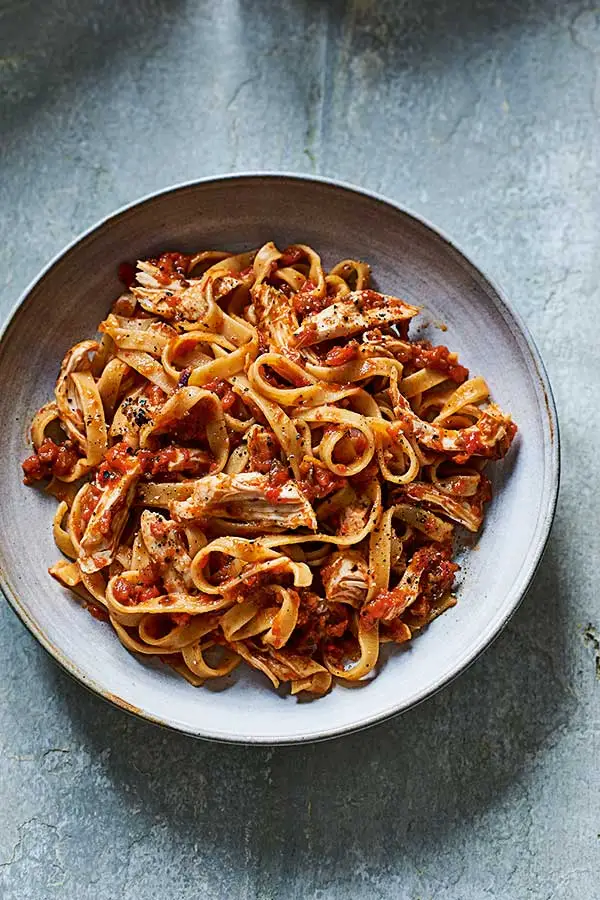 Are you on a diet? Maybe, watching your calories? Or are you trying to tone or bulk, and increase your protein? Well, no matter your goal, this chicken and halloumi pasta with a spicy tomato sauce will be there for you.
This tasty, delicious pasta will be ready in just 30 minutes and is no hassle at all! It only has 435 calories in it and contains a whole 35 grams of protein! It's perfect for a nice meal after work or if you cooking for a family or even a romantic date, but still want to be healthy! So let's get started!
Chicken and halloumi pasta- what you will need!
*THIS RECIPE SERVES 4 PEOPLE*
This dish does not require much equipment or ingredients, which is perfect for when you have finished the meal, and really can't be bothered cleaning up! It will take no time at all.
What you will need;
A frying pan
A pastry brush (if you wish)
Spatula
measuring spoons or measuring cups
frying pan
pot
Bowl or plate to serve.
Ingredients;
1 block of halloumi
a dash of hot sauce
200ml of passata
1 block of light Philadelphia/ cream cheese
100 grams of pasta per person, so 400 grams
1 chicken breast each, so 4 for this recipe
Spices, like paprika or cajun.
Half an onion, cut into strips.
Chicken and halloumi pasta- method!
Start off by washing your hands, and collecting everything you need! We are going to start with the chicken!
Get your chicken breast and sit it on a plate or a chopping board, and you want to grab your chosen spices. At this point, you can use a pastry brush if you'd like, or you can just wash your hands and use your fingers! Apply your spice onto the chicken, I like to use a sprinkle of cajun, a sprinkle of paprika and a sprinkle of garlic.
Using your fingertips or your pastry brush, you can rub the spices in, covering the whole breast. Once one side is covered you are going to flip it around and do the same on the other side. Once the entire breast is covered in spice, pop it into your frying pan and seer it on both sides until it starts to look a bit more cooked.
Once you've done that for 2-3 minutes, put It in the oven for 25 minutes at 180°. Boil your pot of water, and then pop in the tagliatelle pasta. Now we are going to start on the sauce! Fry some onions that are chopped up into slices and any other veg you want (I like to add in some mushrooms with mine) and let them fry until they are going soft.
Add your tomato sauce and your light cream cheese into the same pan with the fried onions. Stir it all together with a wooden spoon or spatula on medium heat until a few bubbles begin to appear, once they do, turn it down to a lower heat. once you have mixed the sauce, so much that it has gone from red with white streaks through it, to a full orange colour, it's time for us to add our hot sauce.
I use tabasco sauce, which is really spicy so I add about 5 or 6 drops of that but it is up to you how much hot sauce you use. It is completely up to you how much hot sauce you put in, obviously the more you do the spicer it will be so it depends on how hot you want the sauce to be!
Once you have stirred this all in, allow the sauce to sit simmering in the pan until the chicken and pasta are ready. To test if your pasta is ready you can either select a bit, blow on it for a minute and then test to see if it is ready for your type, whether you like it slightly crunchy, al dente or really soft. Another fun way to check if it is ready is to throw it at the wall and see if it sticks. If it sticks, this means it is ready!
Drain your pasta in a colander or sieve and make sure all the starchy water is out. Then, take your sauce off of the heat, either on a pot stand or just a different hob. Once you have done that add your cooked pasta into the pan along with the already made sauce. Stir in the pasta, making sure you have it all coated in sauce, and then put it back onto the hob, at a low heat. Allow the pan to sit on the heat, gently simmering for 5 minutes, stirring it occasionally to make sure none sticks to the bottom of the pan.
Then, take your chicken out of the oven. Pierce a slit in the middle, but don't go all the way through cutting it in half. Check it is all white and there is absolutely no trace of pink at all in the meat. Then, slice another line down the front of the breast, slightly smaller and another behind. Do this until there is slits going all the way up the breast and slightly pull the chicken from both sides.
So that it looks something like the picture above, but cooked and a lot darker from your spices.
Then, grab your serving bowls and ladle. You want to spoon some pasta into the bowls, but not too much since you will also have chicken. Once you have filled the bowls with the pasta, you then want to put a bit of chicken breast on top.
Heat up a pan with a tiny bit of oil in it, and place some sliced halloumi. Fry these on a high heat and allow them to start to burn and brown in places. Then, flip the halloumi over and fry the other side, so that it is hard on the outside but still has a lovely texture, but still nice and smooth on the inside.
Place about 3/4 bits of halloumi on each plate of pasta next to the chicken and then it's ready to serve! Hope you enjoy it!
If you want to buy halloumi, click here!
If you want to learn some great healthy breakfast recipes, click here!