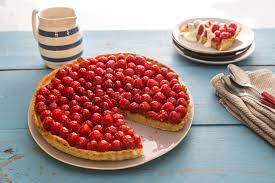 Are you looking to bake a great dessert that the whole family will love? Maybe if you're having a Sunday dinner or a family gathering! Or if you make a nice dessert to treat your friends, or maybe this is for a birthday party. No matter what this occasion is, this raspberry bake well tart is the ideal dessert that everyone will love!
Taking only 30 minutes to make, by 15 minutes to make, and 15 or more minutes to set! This gives around 7 servings, or 5 if you would like them to be bigger servings. As I said, no matter if it's for a movie night with your friends, a date night for your dessert after a delicious meal, or if you'd like a look at nice main meals to make, click here! This meal is the perfect choice for any occasion!
Ingredients for raspberry bake well!
Now this recipe does not require a lot of ingredients, but it still tastes amazing! Here is a list of the ingredients that you will need.
For the pastry you will need;
100g of plain flour
50g of margarine
And for the filling, you will need;
50g margarine
1 egg
50g caster sugar
1ml of vanilla essence
50g self-raising flour
15ml of raspberry sauce
And then it's around time to get started on the method to bake the delicious dessert! But before we get started, remember and set your oven at 190° or gas mark 4!
Method for Raspberry bakes well!
As I mentioned there, one of the first steps to do in this recipe is to preheat your oven, but also collect all your ingredients and do personal hygiene, like collect an apron, wash your hands, taking off any jewellery and tying back long hair, its time to get cooking!
Put your plain flour into a large bowl, and then put in your 50g of margarine. Cut the margarine, whilst it is in your bowl, into small bits with a knife. Then, using clean hands, rub the flour and margarine together into small breadcrumb crumbs. This should take only around 2 minutes, if you think you are done, gently shake your bowl and any large lumps should rise to the top so that you know what bits you need to rub in.
Once you have rubbed it all in, add sufficient cold water to form a stiff dough!
Get a sprinkle of flour and sprinkle it all onto the table surface, then put your pastry on top. Knead your pastry!
Roll out your pasty using a floured rolling pin, and roll out the dough along the table, then grab a flan ring (or any circle pastry tin)
Line the cake tin/flan ring. Leave this to relax for 5 minutes and then trim it!
Now that the pastry is done, for now anyway, let's get started on the amazing raspberry bake well filling!
Get another bowl and put in your margarine, your flour, your sugar and your egg. Then get either an electric whisk, a manual whisk or even just a fork! However, I do recommend an electric whisk or beater as these will save you a lot of time and hassle!
Whisk all your ingredients together until they are light and fluffy! Make sure not to over-whisk, you will know you have if it goes too thick and starts to appear like PVA glue or slime-like!
Add a few drops of vanilla essence to your whipped cream, and then using a dessert spoon, wooden spoon or metal spoon, fold in the vanilla essence, carefully!
For the next bit, there are two different styles that you can make this tart! For the first one;
Then carefully add your raspberry sauce, into the mixture, and again, carefully fold it in until it all starts to become a light pink/rose colour! Spoon the mixture onto the base of the tart, that has been relaxing in the flan ring and smooth the mixture over with a knife!
For the other way you can do the recipe (I recommend this was more than the other but it is completely up to you!)
Once you have folded the vanilla essence in, grab your flan ring that the pastry has been resting in and get either a wooden spoon or dessert spoon!
Get the raspberry sauce and carefully spoon it all onto the flan base, and gently spread it over the pastry, until it is all even and covering it all! Then, spoon over the whipped mixture onto the pastry base too! Spread it all evenly and flatten the top with a knife, so that it looks presentable and neat!
That is both ways! As I said, I recommend the second way but both are super tasty! Now let's continue with the recipe!
Once your oven has preheated, and you are ready, pop your tart into the oven! Keep it in to bake for around 25/ 30 minutes until it has risen, is golden brown on top and firm to the touch! Whilst you are waiting on the cake to bake, you can either make a different recipe or tidy up some dishes and do a bit of 'clean as you go
Once your dessert has been baked, get out the dessert from the oven carefully, and let it cool on a cooling rack for about 10-15 minutes!
To decorate the raspberry bake well tart, you can either whip some more cream using the same method and recipe we used earlier and pipe it around the sides of the bake well tart, or you can just cover the top of the bake well tart in raspberries! Or you could even just dust powdered sugar or icing sugar over the top! Or if you want, you could go for all three!
And that's your raspberry bake well tart complete! You can either serve it hot or cold, no matter what, everyone will love it!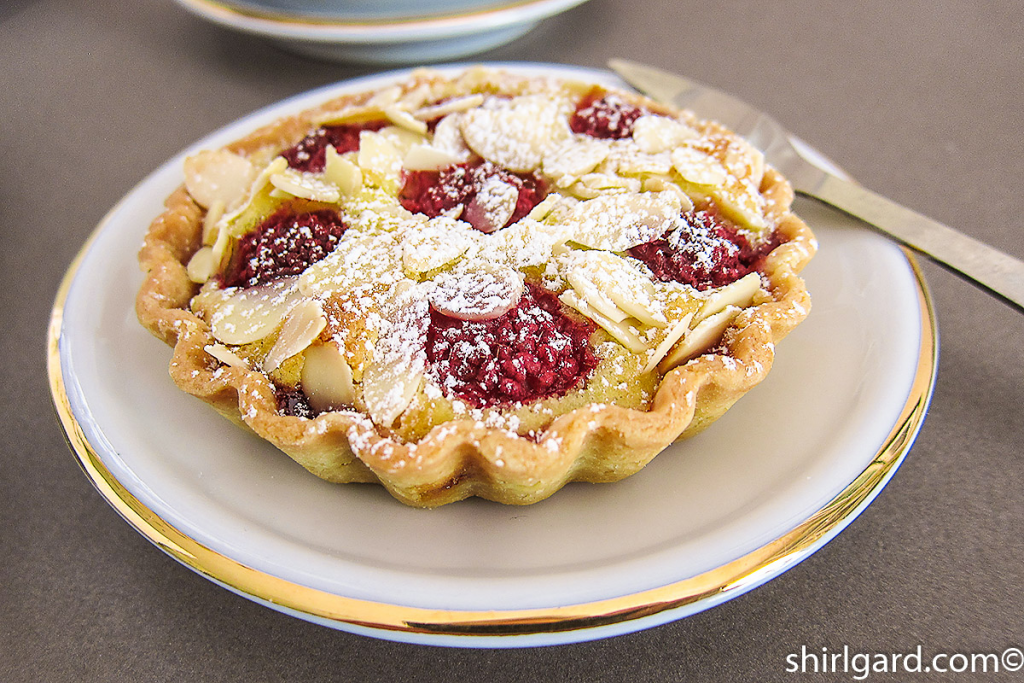 If you want to read more ways or more in detail ways to make whipped cream, click here!