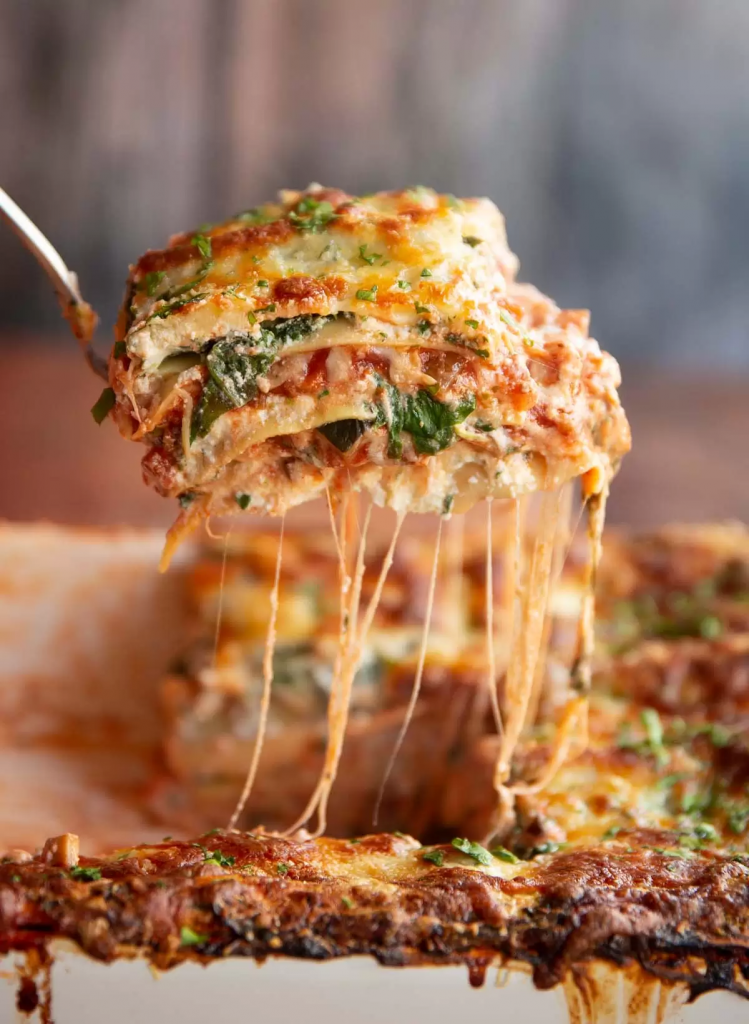 Do you want to make a tasty, lasagne to feed the whole family? Maybe to feed your friends or your significant other? Maybe you're trying to get more veggies into your diet, but you would always die for a nice slice of lasagne? Well, no matter why you're looking for a delicious vegetable lasagne recipe, this is the right one for you!
This amazing recipe takes around 15/20 minutes to prepare and 2/35 to prepare! Now this recipe would make 1 or 2 servings, so if you would like any more servings, just add on more ingredients! It is a great meal for a Saturday dinner or a dish for a family event, so let's get started!
Ingredients – for vegetable lasagne
There are so many tasty ingredients in this recipe, that's why it is bursting with flavour! The ingredients you need to make the main part of the dish;
1 onion
200ml of chopped tomatoes
1 garlic clove
3 mushrooms
½ of a courgette
100g of broccoli
100g of carrot
200ml of chopped tomatoes
15ml of tomato puree
1.25ml of dried oregano
15ml of oil
3-4 of sheets pasta
125ml of water
¼ vegetable stock cube
Now, to make the delightful, creamy cheese sauce that goes over the top, all you will need is;
25g of plain flour
25g of margarine
250ml of milk
40g of cheese
And that's it! It is now time to start cooking, but before we get going, make sure to preheat your oven to gas mark 6 or 200°
Method – vegetable prep and preparing lasagne
The first thing you want to start off with is preparing your vegetables! To prepare the vegetables, you will want to;
Peel and finely chop both onion and garlic
Wash and slice your mushrooms
wash and cut your courgette into brunoise
wash and cut your broccoli into florets
wash, peel, then rewash your carrots and cut them into brunoise
Once you have done that, heat up oil in a pot or a pan and sauté the onion and garlic for 2 minutes, add the mushroom and courgette and continue to sauté for an additional 3 minutes! Add the broccoli, oregano, chopped tomatoes, carrots, puree, water and stock and
bring to the boil and then stew gently for 10 minutes.
Once you are waiting on the veg to stew, we are going to start on the sauce. Start off by grating your cheese onto a plate, then separate it into 3 equal bundles.
Place your margarine and flour into a small pot or a pan and gently heat it, on a very low heat or flame. Stir it until it becomes a paste, making a roux. Gradually add the milk until there are no lumps, and the milk has went a creamy colour.
Add in two of your bundles of cheese, and leave the last one for later! Set your sauce aside once it is ready (it should be thick enough to coat the back of a metal spoon)
Get a lasagne dish and put the bottom layer filled with 1/3 of your veg mix! Then add a lasagne sheet and 1/3 of your cheese sauce.
Then on top of that, add another 1/3 of the veg mix, a pasta sheet and 1/3 of the white sauce.
And for a final time, on top of the last layer add another 1/3 vegetable mix, pasta sheet and then add the rest of your white sauce. Sprinkle the remaining cheese over the top, and pop your dish into the oven!
Bake it for 25 minutes, until it is golden brown on top, and then it is ready for you to eat and enjoy!
If you would like to make a delicious cheesecake for your dessert, check here!
If you would like more details on how to make a roux sauce, click here!