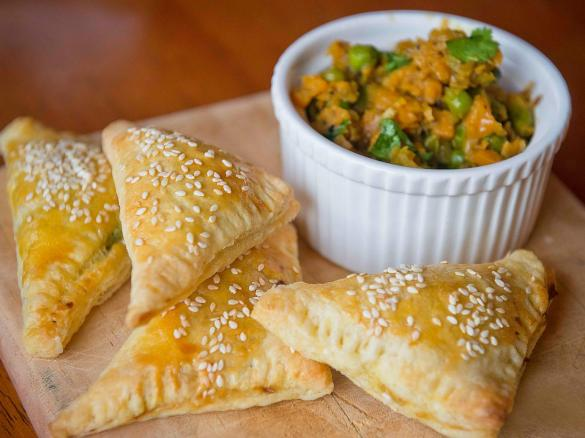 Now, these sweet potato and pea puffs are so different to what I would usually make or eat, but trust me, they are immense! They are close to a samosa, which I also love, so if you are a fan of samosa, you will be a fan of these!
they are good for the side of a plate, a starter, or even just a small meal! Many people have these with rice or even chips, no matter how you make and eat these, they are amazing. However, today I will tell you the best, most delicious way to make them that there is!
sweet potato and pea puffs- ingredients!
Sweet potatoes (peeled)
60g (prepared weight)
Onion (peeled)
25g (prepared weight)
Fresh coriander
5ml (prepared volume)
Sunflower oil
5ml
Cumin seeds
5ml
Frozen peas
35g
Crushed chillies
1.25ml
Garam masala
2.5ml
Turmeric
1.25ml
Water
100ml
Lemon juice
2.5ml
Salt and pepper
Puff pastry
250g
Beaten egg
Approx ½
Sesame seeds
7.5ml
That's it! That is all you need to make our loved, sweet potato and pea puffs! Before we get started, make sure everything is clean and your hair is tied away!
*PREHEAT YOUR OVEN TO 220 OR GAS MARK7*
sweet potato and pea puffs- method!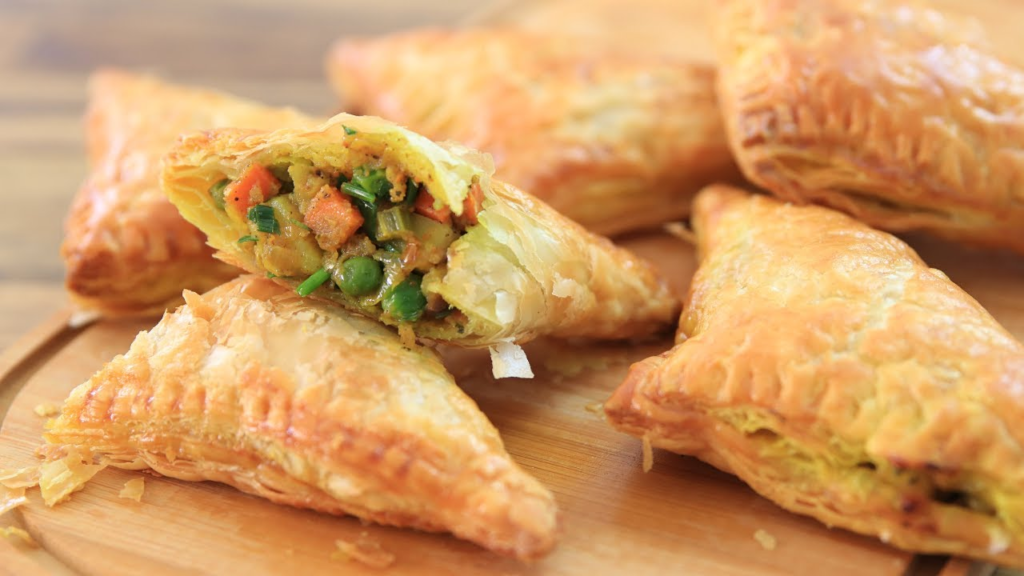 The first thing that you want to do is finely dice your sweet potato and then finely dice your onion. Once you have done that, set it on a plate to the side!
Then, finely chop the coriander. It doesn't need to be a specific shape, just roughly the same size.
Weigh out your oil and pour it into a pan, add the cumin seeds and fry for one minute. Then, after that minute add the onion, sweet potato, peas, crushed chillies, garam masala and turmeric. Allow them to cook and soften, but do not overcook and burn.
Add in the water, lower the heat and simmer gently for 8-10 minutes until the water
has evaporated.
Remove the pan from the heat onto a pot stand, stir in the coriander and lemon juice then season to taste with salt and pepper.
Leave the mixture to cool down. completely.
Then roll out half of the pastry on a lightly floured surface to a 20cm x 20cm square, if you do not want to be too precise, have a little fun with it!!.
Cut out the pastry into 4 equal squares. Repeat with the other half of the pastry, against I said, you can just have a bit of fun with it if you would like, but this is the main specific way.
Divide out the filling equally amongst the eight squares, placing it in the middle, Then, lightly brush alone g edges of the pastry with the beaten egg. If you want, you can season at this point or just wait to taste the result to decide if it needs seasoning!
Fold the pastry over to form a triangle, pressing firmly along the edges with a fork to seal. You can make designs I n your pastry with a fork as well if you fancy, but be careful not to burst through to the filling.
Place the pastry's onto a baking tray, lightly brush with egg and a pastry brush and then sprinkle over with sesame seeds.
Chill the pastry for at least 10 minutes before going into the oven.
Once chilled, bake the pastry for 20 minutes until well-risen and golden brown.
Serve hot on 4 individual, clean warm plates and finish with an appropriate dressing also taste and season as required!
Then that's your sweet potato and pea puffs done! To buy sesame seeds, just click here!
To see more recipes, click here!
Hope you enjoy your sweet potato and pea puffs!