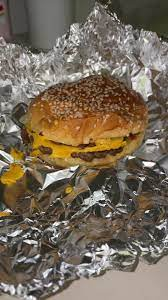 Five Guys. Such a popular, tasty, fast food restaurant. But, it is also one of the hardest to resist when your on a diet, or watching what your eating! So, try out this delicious fake away five guys burger that is only 361 calories. Perfect for a weekend dinner, the whole family will love it, it is super tasty, and let's be real, it is a lot cheaper than fast food is as well!
For watching your calories, on the side I recommend air fryer sweet potato fries, as these are also a lot better for you, especially in an air fryer! A great recipe for this delicious side to your burger, try out this link here!
Fake five guys- burger method!
Start off by grabbing a sheet of grease proof paper and some low fat quarter pounders and break one in half. Take one half of the split burger and roll it into a ball. Remember these are raw meat so be careful to avoid contamination. Flatter then split that is rolled into a ball as plat as it can go to be a flat patty, I would use the other side of the greaseproof paper if you would want to avoid pressing it with your hand.
Then repeat all this with the other half of your split burger, roll, place on parchment paper, fold over the paper and then split it down. Add some oil to a pan, but not to much that it takes away the main point of the recipe, the healthiness.
Add a little bit of oil to a pan and put in the burger patty's. Start to cook them off, and when they go brown on the outside, add a dairylea cheese slice on top, allowing it to melt when cooked. If you want to cut down the calories a bit more, you could split a slice of cheese in half and use it for 2 burgers, as it is two burger patty's per bun anyway.
Take your burgers off the heat and set to the side the now. Get your bun in a slice of tin foil and it is now time to prepare your burger bun with sauces. I recommend using ketchup, but I know many people like to use Nando's pirinase in these. I also think that burger sauce or thousand island is a really good shout for these burgers.
Place 2 burger slices into the one bun and then top off with salad, for example lettuce, onion, tomato and pickles. Place the other half of the bun on top, and wrap the burger up in the tin foil that it was prepared in.
Now, this is where it gets a little different and more complex. Add the wrapped up burger to an air fryer or oven that is on a high heat, and cook if for a maximum of two minutes. Then, take it out, press down the top of the burger to squish is- whilst still in tin foil- and then if you feel it is needed, place it back in the air fryer for 30 seconds to a minute!
After your burger is complete, plate it up with your sides- which I recommended, sweet potato fries, maybe along with a little side salad- get your favourite sauces out and then your fake away five guys is ready to devour!
After all those heathy, cheap and easy steps, you have created a five guys from the comfort of your own home!
Fore more articles, reviews, recipes and more, just click this link here!