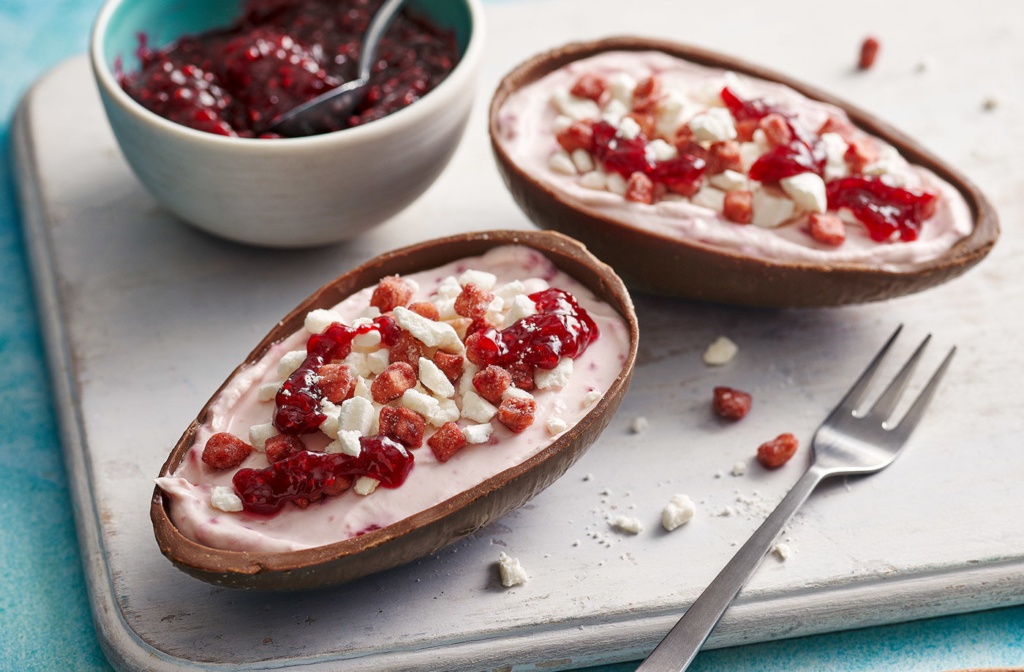 Eton mess easter eggs. Sounds strange. But delicious? yes, it is! These Eton Mess easter eggs! A sweet spring treat that only takes 5 minutes to prepare is fun for everyone. You do not want to miss out on these Eton Mess easter eggs! Anyone can make them make and enjoy eating them!
Let's get straight into our messy eggs! This recipe serves 4, but you can divide it, double it, or whatever it takes to suit you! Each serving has 367 kcal and only costs £1.81 per serving!
Eton mess easter eggs – ingredients
You do not need a lot of ingredients to make these eggs- but it is still full of tasty, different flavours!
One medium chocolate Easter egg- dark chocolate is recommended, but I think white chocolate goes fantastic with this recipe! White chocolate and berries are just amazing, but it is your choice!
4 tbsp raspberry jam
200g reduced-fat soft cheese
100ml whipping cream, whipped
One meringue nest
1 tbsp strawberry-infused apple pieces or freeze-dried strawberries
For example, any easter toppings you choose to decorate, mini eggs or Malteser bunnies!
That's it! See, very few ingredients are required to make these tasty eggs! What is not to love about this recipe? Easy to make, quick, with very few ingredients and delicious! A perfect treat for the whole family to enjoy at Easter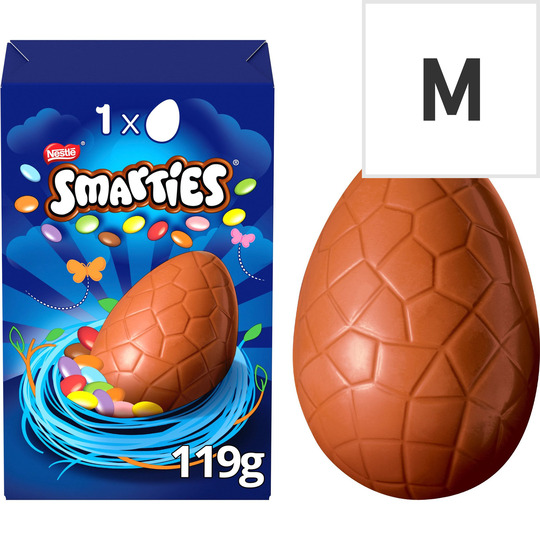 Eton mess easter eggs – method
It is a rapid and easy process to make these delicious easter treats, and we will start by preparing the chocolate easter eggs! As I said, dark chocolate has been recommended, but white chocolate tastes beautiful in this recipe!
Carefully halve the Easter egg by running a knife under hot water, pat dry, and then press into the join of the egg to separate. This way takes a little longer but guarantees an excellent, clean cut along your egg, making it look smooth and fancy. Or you could try freestyle it by just trying to separate it from the joint, but I recommend the hot knife technique!
Once you have separated your egg, it is time to start filling it! Once complete, mix the 3 tbsp of jam into the weighed-out soft cheese, then fold in the whipped cream using a metal spoon or a dessert spoon. Once complete, the filling will take a while to set, but trust me when I say it is worth the wait!
Once it is all folded through, grab one of your egg halves and spoon the mix into one of the eggs until it is all spread evenly amongst the egg halves! Crumble over the meringue nests, sprinkle with the apple pieces or strawberries, and then finish with the remaining jam.
You could melt excess chocolate, drizzle it over and allow it to harden, or leave it! To give it that unique easter touch, decorate with easter toppings, for example, mini eggs, Malteser bunnies and more!
Each half of an eton mess easter egg serves 2, but if you feel cheeky, have a whole one to yourself! I know I will be; they are just too good to resist!
For more Easter treats like this eton mess easter egg, click this link here!
Just click this link here to purchase an Easter egg to get a head start on your eton mess easter egg!