Creamy Chicken Orzo. For a start, orzo isn't a popular food. It's not one you see on a menu, talk about often, or even cook often. Well, after you try this fantastic recipe, this will be a family favourite that you will always hear about!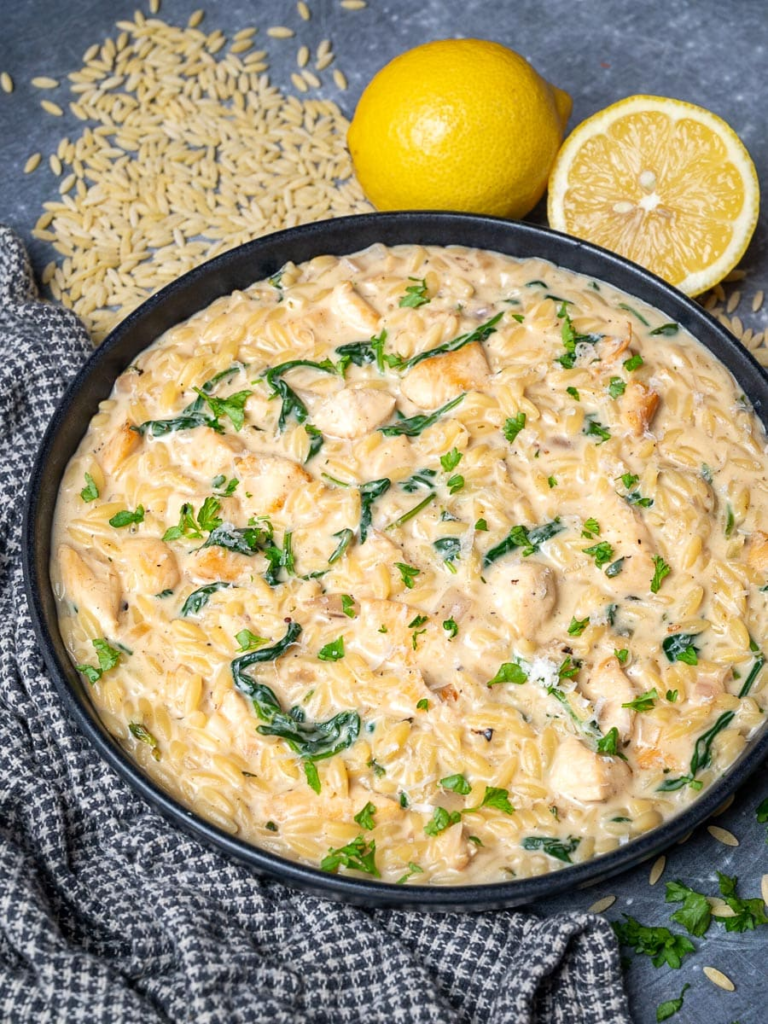 This dish will become one of your favourites, as it tastes so good and is easy to make! It's the perfect dish to make when you don't feel like cooking something complicated but still want to tuck it into a bowl of deliciousness.
A quick, tasty recipe that does not require many ingredients- what more could someone want?
Orzo (or risoni as it's also called) may look like rice, but it's pasta. This means that even though this chicken and orzo dish looks like risotto, it's much quicker to make.
Such an excellent homely meal for the whole family will love. Many may call it a good meal if someone is feeling poorly, a comfort meal! It is also an excellent meal for a gathering, for instance, a side dish to make if you're having a BBQ or a feast! It will instantly become a favourite, and everyone will beg for more!
Chicken orzo- ingredients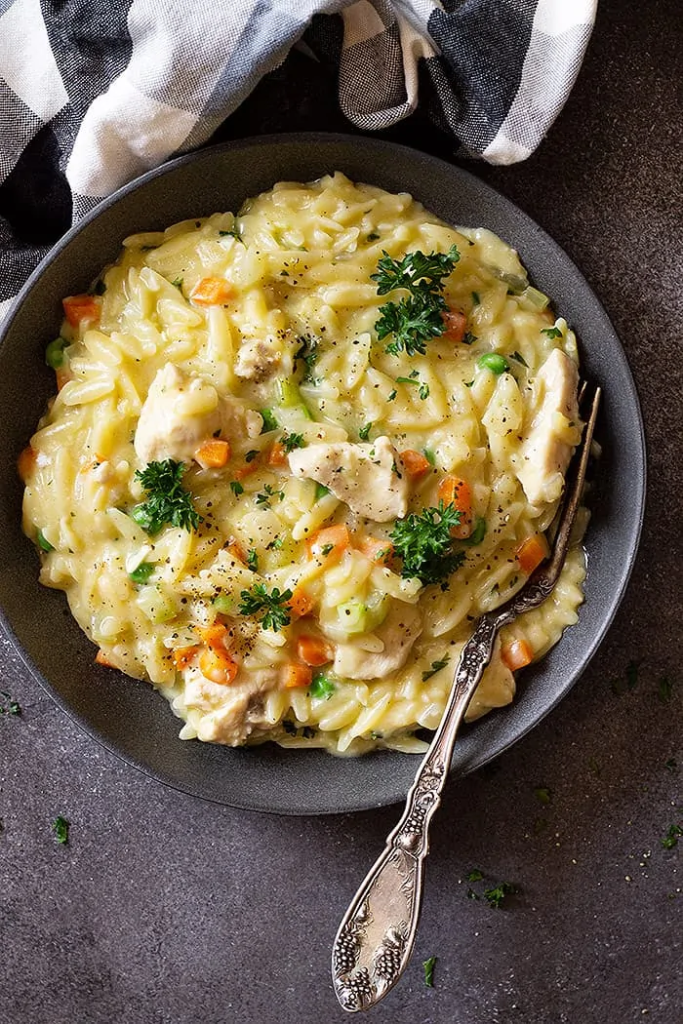 First of all, you need olive oil and butter- cooking the chicken in a mix of olive oil and butter- instead of just one- adds an excellent flavour to the base of the chicken.
If you want to cut down the calories in the dish, use a lean chicken breast, but if you do not want to cut down and add the flavour, boneless thighs work too! You can also make this orzo dish with rotisserie chicken or leftover turkey from Christmas or a holiday!
Shallot is up next! The mellow shallot flavour is perfect in this dish, but you can also use regular yellow onion.
Either use a shake of garlic, o you up a few garlic cloves, depending on how strong you want the flavour!
Mixed herbs, for instance, thyme or oregano, salt and pepper! This adds so much flavour to the creamy chicken orzo.
If you don't have any fresh herbs, you can use two teaspoons of Italian herbs mix instead.
Next is probably the main ingredient in the recipe, yet we still haven't mentioned it! Orzo! As discussed above, orzo may look like rice, but it's pasta. It does a great job absorbing flavours and cooks in just 10-12 minutes over a gentle simmer. So much easier than rice!
Add the best top-of-the-range chicken stock you can find to add that bit of needed flavour! It makes a difference and takes the dish up to an 11 out of 10!
Baby spinach can be added to add vitamins and make this dish much more nutritious and healthy! It also adds to the brightness of the word!
Freshly squeezed lemon juice infuses loads of fresh flavour into the orzo. Lemon juice also adds that extra flavour you didn't realise how much it brings! Again, it just makes the dish go from a 10 to an 11 out of 10!
Half and half, or single cream! I add a bit of half and half (single cream in the UK) for a bit of extra creaminess, which makes the dish's texture even better than it already was!
Finally, the last ingredient is fresh parmesan to garnish the dish and add that spark of flavour over the top at the end!
Creamy Chicken Orzo- method!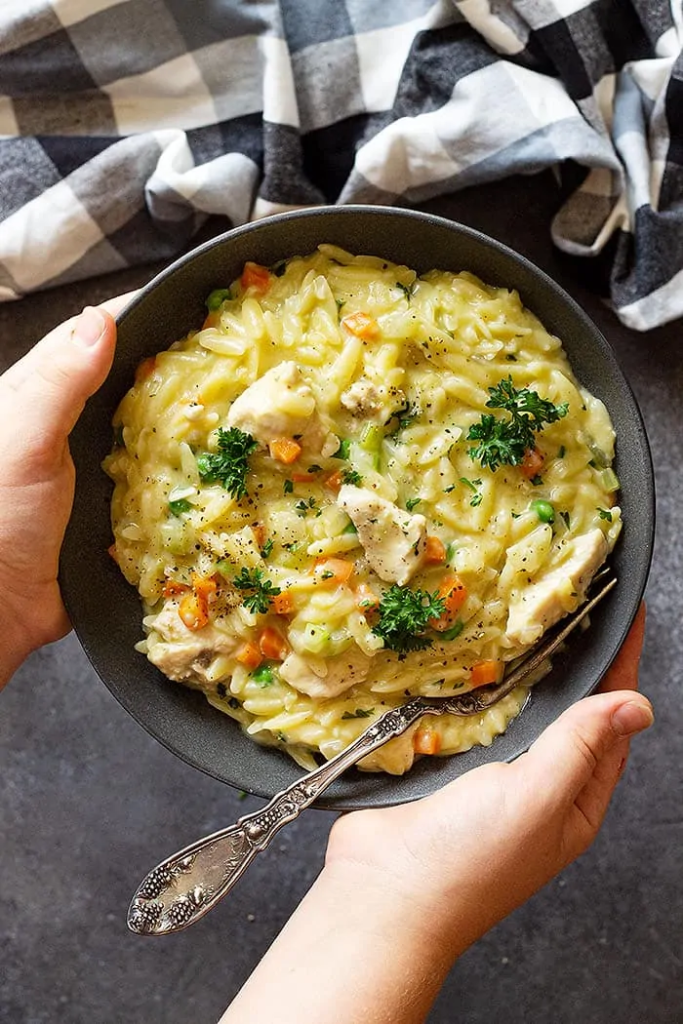 One of the best parts of this dish is how easy making it is! It takes no longer than 30 minutes, maybe even less, to make it! That means that everyone will love it, especially since if everyone starts to feel hungry, it won't take long until this creamy chicken orzo is in their belly!
Start by heating the olive oil in a large, deep pan and melting the butter. Add the chopped chicken breast to the melted butter and oil and cook it in the pan for 4-5 minutes, over medium heat, until slightly golden, then remove the chicken from the pan and set it to the side for the time being.
In the same pan, add the shallot and cook that for a further 1-2 minutes. Then stir in the garlic, thyme and oregano and cook for another minute.
Add the famous, beloved orzo, toast it for a minute, and then pour in the chicken stock. Stir in the baby spinach and lemon juice and simmer for 1-2 minutes until the spinach is wilted. Bring it all to a boil, then lower the heat to a simmer for 10 minutes until the orzo turns al dente.
Add half and half cream and stir the pan to combine all the foods! Simmer the mixture for 1-2 minutes, and if you want to, add in some grated parmesan just for that kick, that extra flavour.
Ensure the dish is warm the whole way through, and then taste and season! And that is it! Your creamy chicken orzo is complete and ready to enjoy!
Final tips!
Add sliced mushrooms or frozen peas to this chicken orzo for extra flavour and nutritious goodness.

This dish is best served immediately and pairs excellently with a crisp, dry white wine such as a Sauvignon Blanc.

Substitute the orzo with other small pasta, such as ditalini or satellite.
For more articles like tips, reviews and recipes, click this link here!
To buy orzo, which may be a rare ingredient and hard to believe, click this link here!