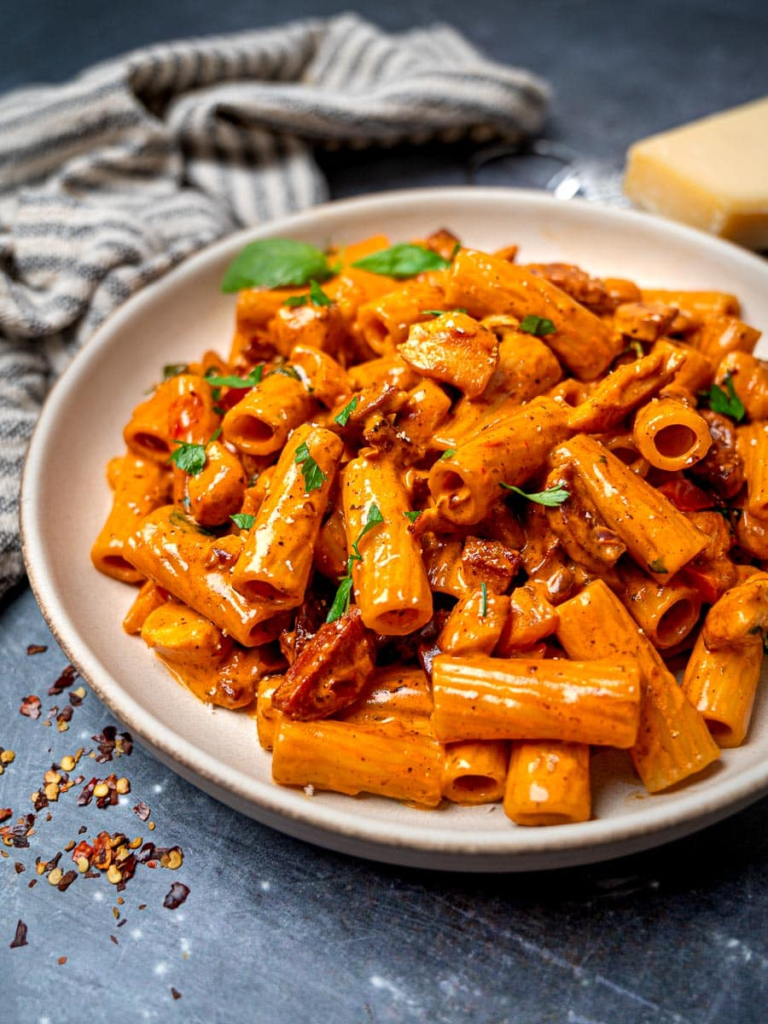 Chicken and chorizo pasta is one of my favourite pasta! It is the perfect pasta dish with chunks of chorizo, chicken and crispy onions, all coated in a creamy tomato sauce! It is the perfect treat that the whole family will love, perfect for dinner after work, a dish at an occasion, or even to take into work in a tub cold!
The dish is ready in only half an hour. Therefore it will become a family favourite, as there is nothing like an easy, quick recipe, especially when it has the creamiest sauce I have ever known. It tastes like a dream; I would eat it every night if I could!
Chicken and chorizo pasta – ingredients!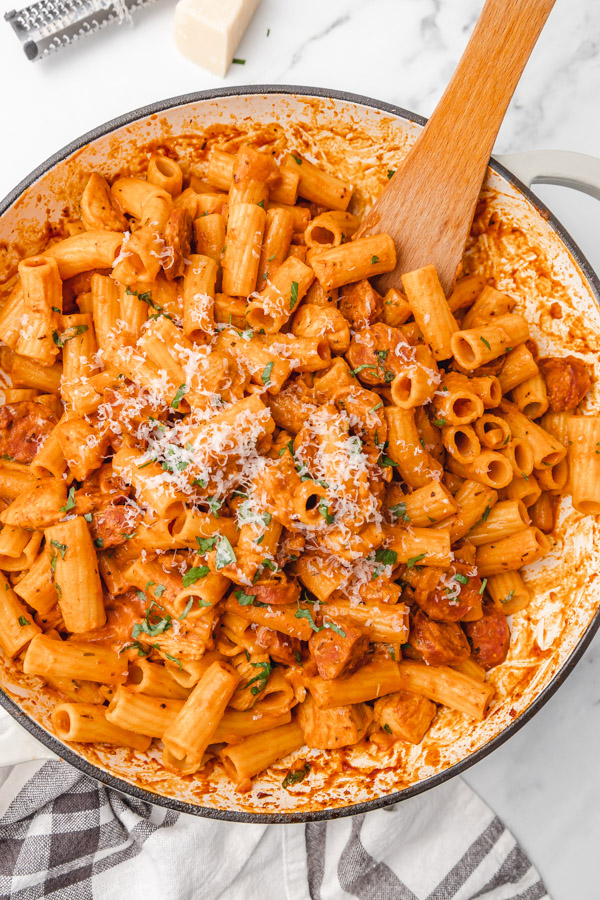 What do I need to make this delicious chicken and chorizo pasta recipe?
Pasta-rigatoni is the recommended choice of pasta. This is unsuitable for a long pasta dish as you need thick, chunky pasta to hold up the bits of chicken and chorizo. However, any short pasta would do, like fusilli or penne, which are also excellent choices.
Chorizo- some good-tasting chorizo is essential for this pasta, so use the best one you can find! You can choose between the regular chorizo, or if you want to add spice to your pasta, go for the hot and spicy one! If you are making your dish spicy, add some red chilli flakes or chunks of chilli!
Chicken breast- since you don't cook the chicken separately, you need to be extra careful, making it white and cooked the whole way through the chicken, and make sure you cut the breast up into bite-size pieces to ensure the chicken cooks quickly.
Red onion- Adding in some veg now, dice up a red onion nicely and finely because this will only cook for a few minutes.
Red pepper- you can use bell peppers or any pepper you like. Any pepper colour is delicate, and green is also a great choice, but I tend to use red just due to the colours and tastes of the pasta so far!
Herbs, spices and seasoning- oregano and marjoram and a bit of salt and pepper do this dish nicely if you ask me, or even a sprinkle of thyme! If you're making your pasta spicy, a teaspoon of smoked paprika
double (heavy0 cream- double cream is the ingredient that makes this pasta sauce exceptionally creamy! If you want to make this chicken and chorizo pasta dish any healthier, you can use single cream (half and half) instead; however, if you do this, the sauce won't be as creamy! If you choose to use the single sauce, you may also need to allow the pan to simmer for a bit longer, just until the sauce thickens up!
Chicken and chorizo pasta – method!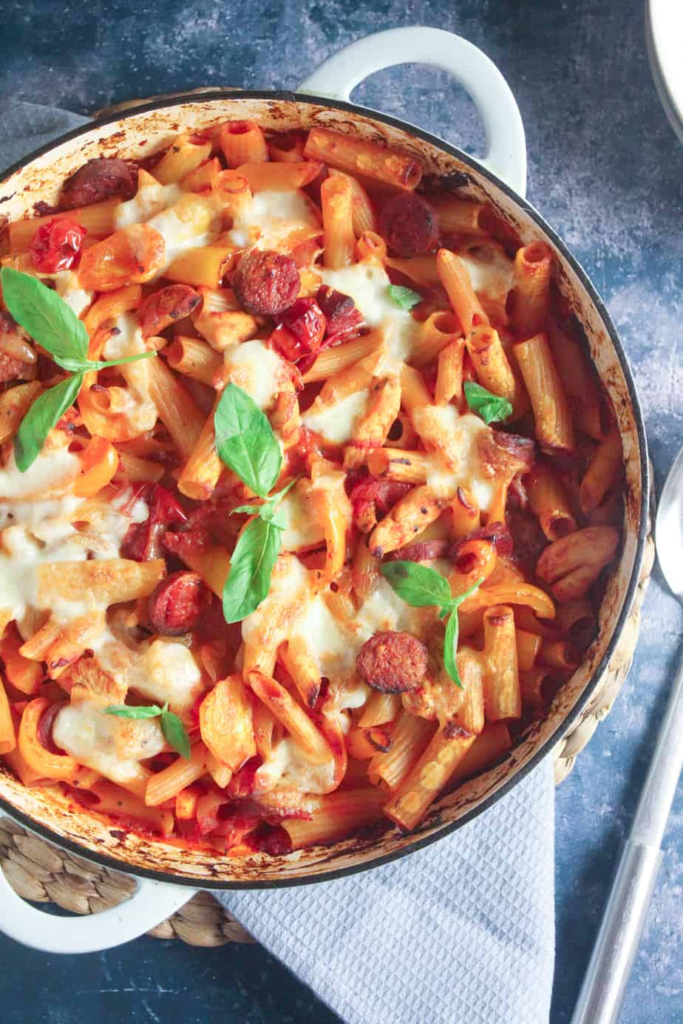 How do I make this delicious chicken and chorizo pasta? Trust me, part of this dish's greatness is its easy preparation!
The sauce is super easy to make in a single pan, and you don't have to mess about cooking the chicken separately and removing it from the pan before continuing with the recipe.
First, you want to half-fill a large pot with cold water, slightly salt the water, and then place it to boil. Cook your pasta in the water based on your pasta's instructions! Then, keep about a cup of water from the pasta before draining it!
Whilst your pasta is bubbling away nicely, heat lice oil in a large frying pan and fry the chorizo for 1-2 minutes over medium-high heat until it turns slightly crispy. Then, add the diced chicken breast to the pan and continue to cook for 4-5 minutes until the chicken is mostly cooked through.
Once your chicken is 100 per cent cooked, add in your red onion and red pepper for 2-3 minutes until they are soft!
Onto the sauce! In the same pan, stir in the garlic, oregano, marjoram, chilli flakes and tomato paste. Add chicken stock and allow the sauce to get bubbling but make sure to stir occasionally. Lower the pan's heat and then gradually stir in the double cream. Allow it to bubble for 1-2 minutes again, and then take it off the heat.
Pour your cooked pasta into the pan, and then give it all a good stir. Stir in your herbs and spices, and even add a bit of grated parmesan if you feel it! Serve in serving bowls, then top with parsley and grated parmesan! And that is all it takes to create one of your soon-to-be favourite dinners!
Chicken and chorizo pasta – recipe notes!
The final small notes that will help your chicken and chorizo pasta come together is-
Before adding the cooked pasta to the pan, you could toss some baby spinach!
If you feel there is too much oil in the pan after the chorizo, you can remove some but make sure not to overdo it as you need it for other ingredients!
Leftovers can be heated in the microwave the next day, but the pasta is better when freshly made.
This is an excellent dish for a romantic meal with a candle-lit table, and I recommend a glass of wine as your drink of choice with the word!
If you liked this chicken and chorizo pasta recipe, more recipes are here!
For other recipes like this dish, click here!
And that's all! With all the easy steps and a few ingredients, you have found a new favourite chicken and chorizo pasta dish! Enjoy!