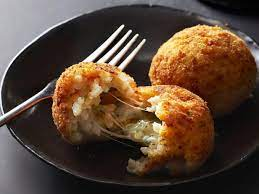 Arancini balls are Italian cuisine, they are rice balls that are tasty and stuffed, then coated with breadcrumbs and deep fried. It is honestly, one of my favourite foods which I love to order in restaurant's so when I found this easy recipe to make it at home, my heart skipped a beat!
These take 40 minutes to prepare and 1 hour and 5 mins to cook, even though that seems like a while trust you me, when I say it is 100% worth the waiting and all the steps you need to go through, because they taste so so soo good!
266 kcal, 11g fat, 29g carbs, 1g sugar, 1g fibre, 11g protein, and 0.7g salt per ball of arancini, and full of amazing flavour!
Arancini balls- ingredients!
2 tbsp olive oil
15g unsalted butter
1 onion, finely chopped
1 large garlic clove, crushed
350g risotto rice
150ml dry white wine
1.2l hot chicken or veg stock
150g parmesan, finely grated
1 lemon, finely zested
150g ball mozzarella, chopped into 18 small pieces
vegetable oil, for deep-frying
And then for the coating…
150g plain flour
3 large eggs, lightly beaten
150g fine dried breadcrumbs (panko works well)
And that's every ingredient this delicious dish requires to be full of flavour! Now, onto the method!
Arancini balls- method for amazingness!
Start off by grabbing a sauce pan and your oil and butter. Heat the oil and butter in the sauce pan until it is foamy. Finely chop your onion and then add a pinch of salt to the pan, and gently fry it over a low heat for 15 minutes or until it is soft and translucent.
Add the garlic and cook for another min and then stir in the rice and cook for a further min, then pour in the wine. Let it come to boil and cook until the liquid is reduced by half and then pour in half the stock and simmer whilst stirring the mixture continuously. Keep stirring until most of the liquid is absorbed.
Add in the rice (clean rice first) and then add the remaining stock a ladleful at a time as the rice absorbs the liquid, stirring, until the rice is cooked through (this should take about 20-25 mins). Once you have done this then stir in the parmesan and lemon and season to taste. Spread the risotto out into a lipped tray and leave to cool to room temperature.
Now that you have done this, we are onto step two!
After a while, scoop the cooled risotto into 18 equal portions, they should be around just a bit bigger than a golf ball. Flatten a ball of risotto in the palm of your hand and put in a piece of mozzarella in the middle, then enclose the cheese in the rice and roll it back into a ball. Repeat this for all of your arancini balls until you have done it with all.
Put the flour, eggs and breadcrumbs into three separate shallow bowls. Dip each prepared risotto ball into the flour, followed by the eggs and finally, the breadcrumbs. Transfer to a tray and set aside.
Half fill a large, heavy based sauce pan with vegetable oil and heat over medium-low until it reads 170C on a cooking thermometer or until a piece of bread turns golden brown in the oil within 45 seconds. Lower the risotto balls into the oil in batches and cook for around 8-10 minutes or until golden brown and melted in the centre. Set aside on a tray lined with a clean kitchen towel.
Serve the arancini balls warm with a nice tomato dipping sauce to go along with it.
And that is it! Your arancini balls are ready!
For more articles like this, click here!
For more food like this, click here!