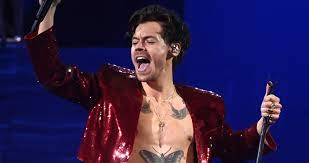 I recently went to Harry Styles, Love on tour, or known as HSLOT, and honestly, had a ball, If you are going to HSLOT any time soon, here is everything you need to know about your up coming Harry Styles concert!
Harry Styles set list!
Harry had an amazinggg set list at the concert I was at, Day 1, Edinburgh, Murrayfield stadium, and honestly I think that is what made the show complete, made it a 10/10. Harry's set list can change depending on your show, but here is the pretty much set, set list that he is following for recent and upcoming shows!
Daydreaming
Play Video
Golden
Play Video
Adore You
Play Video
Keep Driving
Play Video
Daylight
Play Video
Music for a Sushi Restaurant
Play Video
Matilda
Play Video
Little Freak
Play Video
Satellite
Play Video
Cinema
Play Video
Late Night Talking
Play Video
Treat People With Kindness
Play Video
What Makes You Beautiful
(One Direction song)
Play Video
Watermelon Sugar
Play Video
Love of My Life
Play Video
Play Video
Sign of the Times
Play Video
As It Was
Play Video
Kiwi
As I mentioned, such a good set list of songs, with sad songs, happy songs, and even a bit of one direction in their to spice it up ad make it even better! I mean, who does not love a sing along to one direction! The songs do differ a bit, but over all they are so good!
Harry Styles Outfits
One of the things that Harrys shows are most known for is Harry's outfits, and the fans outfits!
Harry always wears something unique and its tradition that the fans do too, wither its flares with a sparkly top and a feather boa, or leather trousers and a small wee top, Harry also has the best style in outfits which immediately just bring the vibes in the concert right up and let everyone know it's a Harry Styles concert!
The fans never fail to impress when they dress for the occasion either, they all wear a unique 'uniform' or follow a specific 'dress code' that makes all Harry fans, or known as 'Harries' unite in their outfits. Like I mentioned, Harry fans dress in the unimaginable, wither its a sparkly cow boy had with a fluffy feather boa, or even a banana or Tellytubby's costume, then Harry fans always find a creative way to dress up their outfits!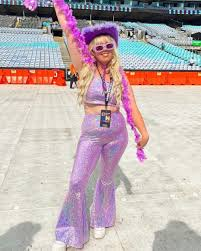 Harry Styles- Concert tips!
The biggest tip I can recommend is plan out your trip their and back. Plan out the times. how your getting there, how your getting back, if your using public transport I would suggest buying a ticket for this form of transport online a few days before, just to make sure you do not need to wait in a queue for a while and be behind schedule!
Make sure you get there with plenty time to spare as food, merchandise, toilet and all type of queues you can imagine are super long and you want to make sure you get there in plenty of time to shop, eat and do your business before singing your heart out!
Harry Styles Merch!
If you wanted to, Harry sells some great merch at his gigs and shows, including…
tote bags
Jumpers
T-shirts
key rings
beanies
bucket hats
caps
posters
covid face masks
and much more! It is a little pricey but a great way to make memories!
For more articles like this one, just click onto this link here!
For more on Love On Tour- Harry Styles, click here!