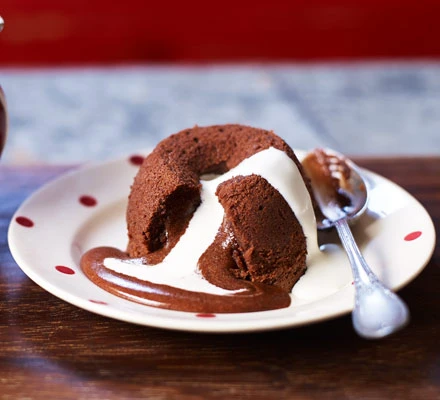 This chocolate molten cake is a really impressive chocolate cake, that your full family will love and will have everyone saying 'wow' at a dinner party. The look, the texture, the taste, and how little fuss and effort this cake requires is just some of the great things about it. Trust me, there is hardly any ingredients, and it requires very little time to make this, so why are you still reading this? Time to get the baking equipment ready!
These chocolate puddings, also known as chocolate fondant or lava cake, have a lovely gooey centre. They take 15 minutes to prep, 20 minutes to cook and this recipe makes 6! A perfect amount for a family dinner!
Ingredients for this chocolate molten cake!
100g butter, plus extra to grease
100g dark chocolate, chopped
150g light brown soft sugar
3 large eggs
½ tsp vanilla extract
50g plain flour
single cream, to serve
as you can see, it is not too many ingredients, yet these cakes are still full of amazing flavour!
Method for chocolate molten cake!
The first step is heating up the oven, heat oven to 200C/180C fan/gas 6. Butter 6 dariole moulds or basins well and place on a baking tray- these moulds are a special type of baking tray, you can find one of these on amazon, for only a few £!
Put 100g butter and 100g chopped dark chocolate in a heatproof bowl and set over a pan of hot water (or alternatively put in the microwave and melt in 30 second bursts on a low setting) and stir until smooth. Set aside to cool slightly for 15 mins. There are other effective ways of melting chocolate like in a microwave but this is the smoothest way to melt it, make sure you do not burn it!
Using an electric hand whisk, mix in 150g light brown soft sugar, then 3 large eggs, one at a time, followed by ½ tsp vanilla extract and finally 50g plain flour. Divide the mixture among the darioles or basins. You can also use a hand whisk to do this, however it may take much longer, just make sure there are no lumps in the mix!
Now you can either put the mix in the fridge or it works quicker in the freezer, up to you depending on how long until you're ready to bake them. Can be cooked straight from frozen for 16 mins, or bake now for 10-12 mins until the tops are firm to the touch but the middles still feel squidgy.
See, so far it has been super easy to make these delicious chocolate molten cake. There is only a couple of more steps, and then these delicious cakes will be ready for you and your family, friends or guests to enjoy!
Carefully run a knife around the edge of each pudding, if they feel like they are a bit stuck to the dish, the n you can heat up the knife but make sure you do not accidentally run the knife through your cakes as then the chocolate will pour out at this point!
Serve these single on a small serving plate, and either add a small but yummy blob of ice cream on the side, or pour over single cream- often known as pouring cream- pour this over the chocolate molten cake, and then it is ready to enjoy! Everyone will love these and they will charm everyone at your party!
For more articles like recipes, reviews and step by step guides, click on this link here!