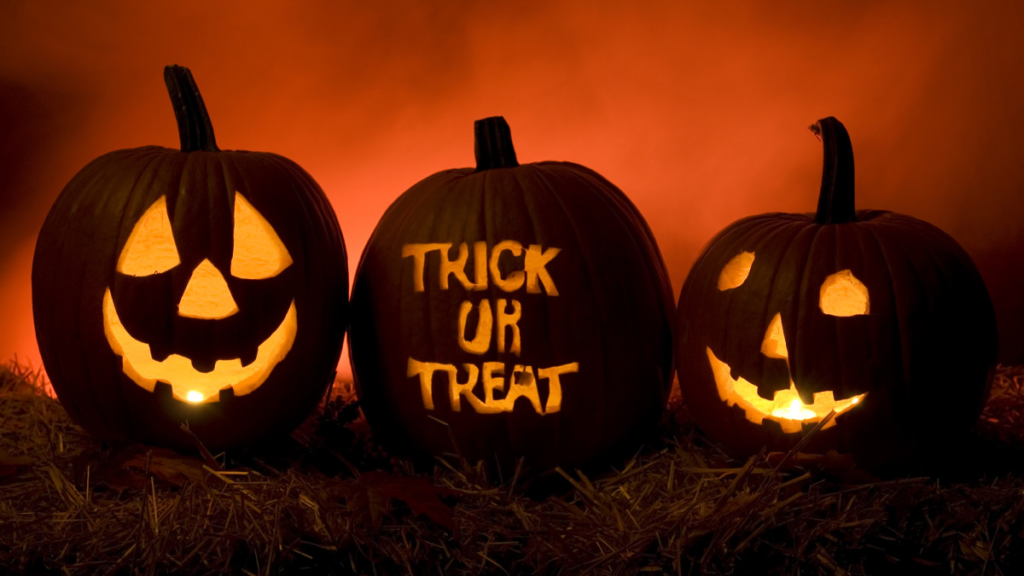 It is finally October, time to prepare for Halloween. It is finally October warm scarfs and our lattes have changed from ice to hot. The leaves crunch every time you step forward, and you can see your breath in the mild air. You start to hear 'the monster mash' playing more in shops and you start to see big bags of chocolates and candies selling out quickly. You see decorations and toffee apples being sold in every shop, and your friends start to discuss who is hosting this year's Halloween party.
It's time to hang up your spider webs and start filing candy bags, and the most stressful but exciting part of all. it is finally time to decide on your epic costume this year.
Maybe you and your besties want to do a duo costume, or you want to be the star of the show. Maybe you want a funny costume or a scary one. Maybe you want to look cute or have the creepiest eye contact. Maybe you want to be different. Or maybe, you are just completely stuck on any costume ideas. Well, keep reading and I will tell you my top 5 different Halloween costumes, some cute, some scary, some funny and even some couples or besties costumes!
Halloween Costume No.1!
First of all, I'll start with a cute and slightly scary one! A dark angel. This could either be a really cute costume, that even though you're wearing a black halo with black wings, you still look stunning! Or you could make this a scary costume, with white, black or red eye contact, scary face paint and a cloak with your wings!
To wear this really cute outfit, just get a black dress, maybe a bodycon dress, get some black wings, a nice smoky eye and red lipstick, curly hair and a cute halo. and nice black boots or heels!
For this outfit, here at the links!
For a set of cute black halos and wings, check out here!
For the cute black bodycon dress, try out this link!
For the black boots, that ties the whole outfit together, just click here!
For the scary outfit, try a long black cloak, with some freaky makeup, and again the dark wings and halo!
For the long dark cloak, try this one out! https://www.ebay.co.uk/b/Mens-Black-Cloak-in-Costume-Capes-Coats-Cloaks/155345/bn_7023067750
And then just the same halo and wings as before and you should be good to go!
That is it! Such a fun, scary or cute, Halloween costume that does not take much planning or cost a lot to wear!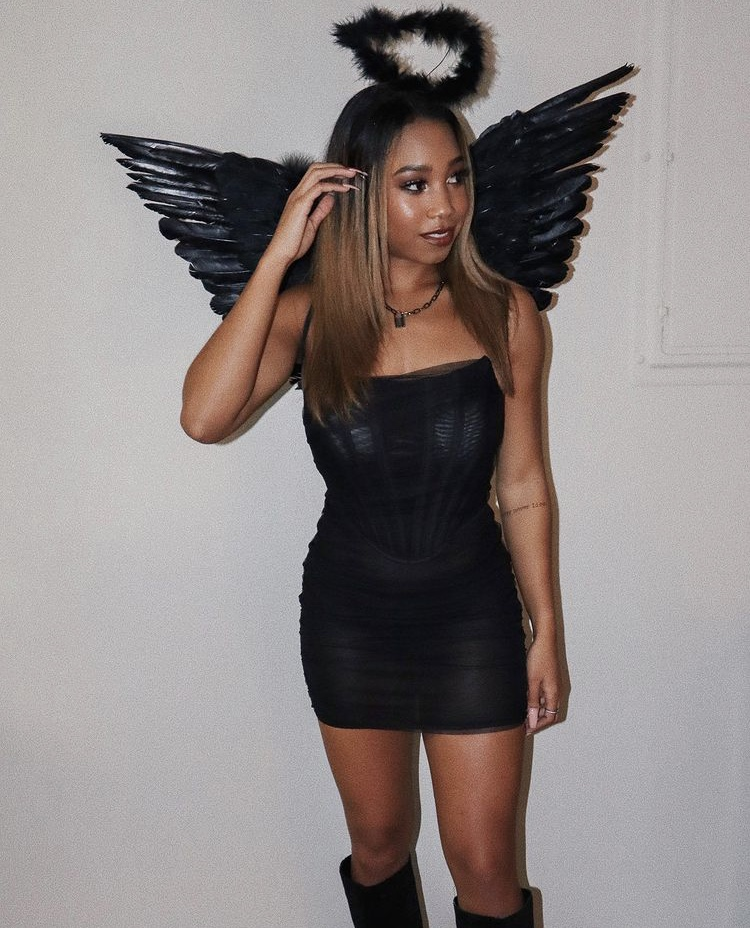 Halloween Costume No.2
Get ready to message your bestie, because this duo costume will be the one for you both! Woody and buzz! This may sound cheesy, childlike, and kind of ugly, but you could make it so cute! You can get woody and buzz costumes that are skirts and crop tops, along with the accessories! They always look super cool, and they are so different and not a popular costume at all!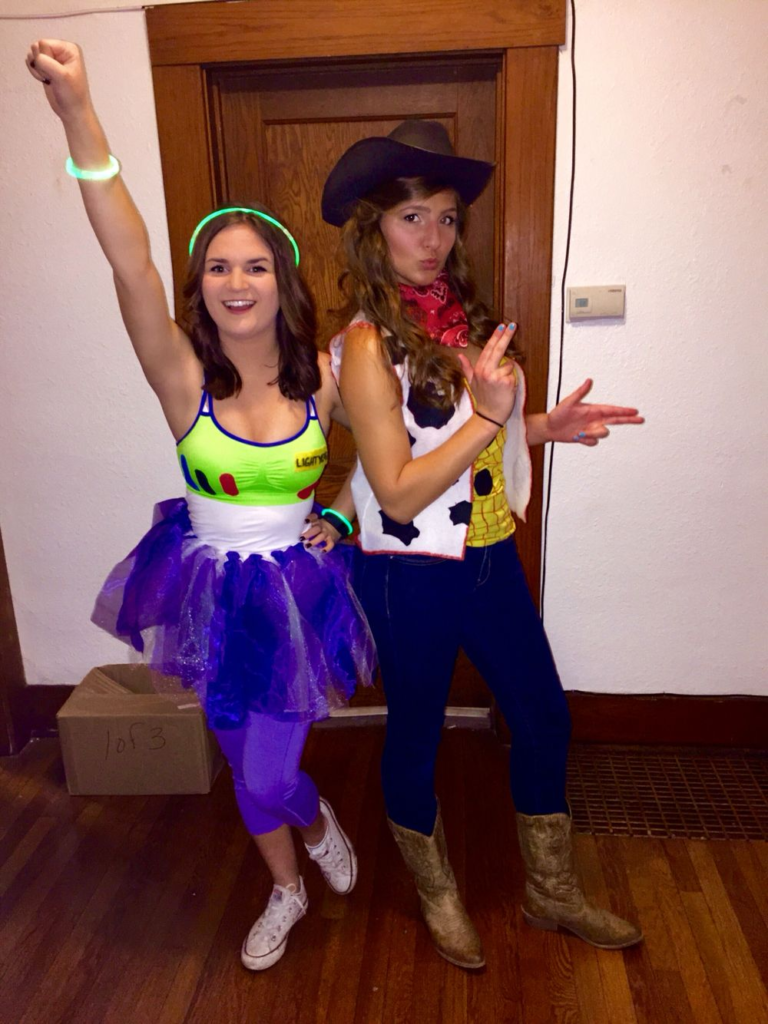 Halloween Costume No.3
Grab your boyfriend or girlfriend, as this costume will make you want Halloween to be tomorrow! Get your green headbands and purple dresses, because you're going to be Daphne and Fred! Scooby doo's Daphne and Fred were everyone's favourite couple when they were younger, so why not become them! Such a fun, easy costume that everyone will love! You would both look so cute too!
Fred Costumes are so cool, and they do not take much effort! If you're looking to buy one, just click here!
For the perfect Daphne costume to match your Fred, try it out here!
Halloween Costume No.4
If you're looking for an easy, affordable but also super Halloween-like, grab a broomstick and your black-furred green eye cat! You're going to rock up to your Halloween party, looking so cool and sleek! With a big black hat, along with a black bodycon dress and some lace gloves, you and your broomstick would be ready to go! This is one of the best outfits of my choice, as it is affordable and easy to buy! It can also be a spooky costume, but you can still look so good while wearing it, and you will win the best costume award.
For the hat, try out this! https://www.halloweencostumes.co.uk/acc-deluxe-witch-hat.html
Find one of the same bodycon dresses I put In the Dark angel category!
For the glove, try this out! Just click here!
And for your shoes, I recommend rocking a pair of black boots, again from the same list from the dark angels! If you would like to see them again, just click here!
And that's it! Just style some long, straight silky hair or maybe cute wavy curls, under your hat and you will look fabulous! You and your broomstick will be the best dressed at the party!
Halloween Costume No.5
The last costume I will talk about today is The purge. I know what you thinking, it sounds a bit basic, but it will only be basic if you make it! You could make this look awesome, so easily and so cheaply, and let me tell you how!
Crimpy or beach waved hair along with some dark but fleak eyeliner will look awesome! Then grab a purge mask, and some fake blood spray, and stick some glitter or gems onto a toy gun! Some black tights, an oversized dress shirt and some black boots and bingo! You have an affordable, easy and fun outfit!
If you need a cute, affordable purge mask, click here!
The rest of this outfit is pretty much just casual wear! A long sleeve school shirt, maybe a size or two too big, and a black top and shorts under it! Also just spray some fake blood spray all over the shirt and it adds to the effect!
for the link to the cute boots that will tie the outfit together, it can be found in previous ideas!
And that's it! That are my top 5 Halloween Costume ideas!
If you want to make spooky, Halloween cakes, click the link here!