Vultr Web Hosting Review
After being in the business of search engine optimization and setting up websites for nearly 15+ years why have I not done a vultr web hosting review is beyond me but here it is.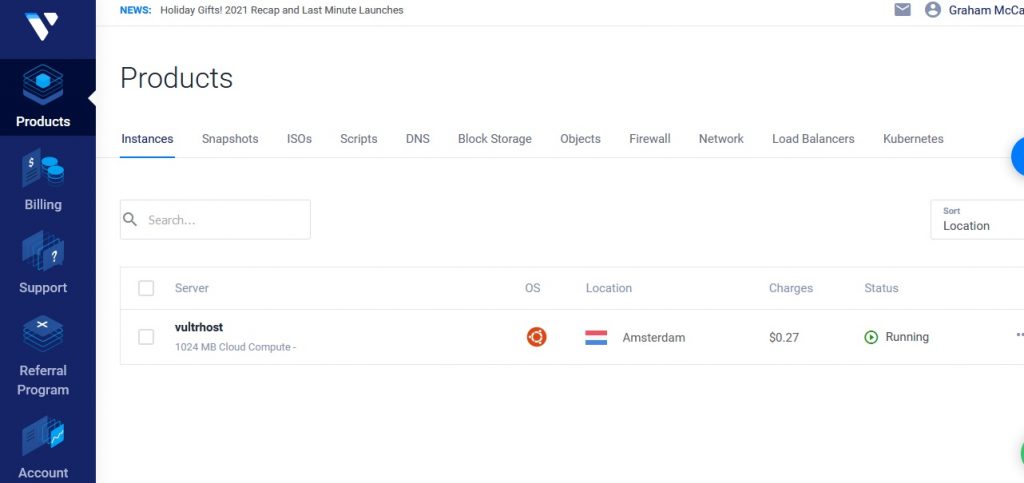 It is honestly not hard to set up websites in general, it just takes a bit of reading up and maybe a youtube video or 2 and you will be off to the races.

The image above is the basic layout of your control panel from where you can control everything from DNS (domain name system) to controlling backups of your websites just in case something goes wrong (which it often can if you press the wrong buttons so take it from me!)
Most of the options you will not need to touch, you will start by creating an instance (also known as a server) you will give this a unique name to identify what you will use it for I just called mine Vultr as I was lacking inspiration that day lol 🙂 anything will do even just websites.
Once you have your instance live I recommend you use PuTTY which is a free SSH (secure shell) application to connect to your ubuntu based server and begin installing all the needed applications to begin hosting your websites.
Once again Vultr makes this a breeze as you can instal LAMP (Linux, Apache, MySQL/MariaDB and PHP) with your instance installation this is all the software you need to serve your websites done in the one go. I also urge you to instal VestaCP while you are at it, this makes adding further websites so much easier in future.
The big advantage to moving to a cloud computing service like Vultr is the ability to control every little detail of your website and any script you may install, for example on shared hosting like Hostgator they only allow you to upload files of 500MB, what if you had large files you wanted to upload? you would have to email support which they would most likely deny.
But with your cloud setup, you can edit the PHP .ini files to allow any size you wanted plus you can add any PHP extension you wanted too, shared hosting server admins would not allow any changes to the files as they would see it as a potential security threat (which it could well be) but it is always good to have the option there if you wanted it.

Vultr Hosting
Vultr hosting uses cloud computing technology, which is a way to deliver resources remotely also known as on-demand computing which is much faster and more secure than shared hosting.
More and more companies these days are going the same route as opposed to shared hosting which can have as many as 100 websites on the same server, if one or 2 of these websites are doing not so good things your site could potentially be blacklisted and penalised by the search engines.
Vultr also uses SSD (solid-state drives) in their server architecture which to me and you just means the data is shared much faster, this is the latest technology at the time of writing this review.
You can also select where you want your instance to be deployed to the United States, the United Kingdom, the Netherlands, Germany or Japan the list is endless, this does not matter too much unless you are building a blog network where you want unique IPs for every website.
You will not go wrong using Vultr for its hosting power and speed, I have been an avid fan for years now of cloud computing services, more and more companies are springing up which is great for competition purposes and give you and me the end-user far more control over your site than using the dreaded shared hosting services.
Trust me once you see how well your WordPress and high trafficked sites perform you will wonder why you never changed over years ago.
Vultr Pricing
Their pricing model is very good, you pay for what you use, if you have little to no traffic coming in you don't need to pay as much, if you have heavy traffic you will pay a little more I use personally on my websites around $10 every month and a half on average.
You can link your bank card up or just do what I do when they send you a reminder email I pay using Paypal but I really should link my card up in case I forget or I'm out of the country, either way, is fine.
Once you deploy a server (they call it an instance) you will start to be charged, but it is pennies per day, remember you can sign up with this link and get $100 free to use which should last you the best part of a year before you need to top up your balance again.
Vultr Pros & Cons
Conclusion
I have been with Vultr for 3 years now, before that, I was with DigitalOcean another cloud computing company that I think highly of, my advice to everyone is to dump shared hosting, yes there are a few plus sides like admins will fix anything you break whereas with cloud you need to do the fixing.
But the pros vastly outweigh the cons, with your cloud setup you will be able to serve your webpages ultra-fast Google is now penalising slow loading sites which is one of the reasons everyone is moving to Vultr and others like it and why I'm writing this vultr web hosting review to get the word out.
Do you and your websites a favour and move them over to Vultr, If anyone needs any help get me in the comments section I'll be happy to help, here is even $100 free credit to use to see if you like it, trust me you will thank me later 🙂 so YES it is amazing 🙂