Swagbucks Survey Review
Swagbucks is a rewards program that offers users a variety of ways to earn points, known as "Swagbucks" or "SB," which can be redeemed for gift cards, cash, or other rewards. The program is free to join and offers a wide range of activities to earn points, including taking surveys, watching videos, shopping online, playing games, and more.
Swagbucks is available in several countries, including the United States, Canada, the United Kingdom, and Australia. To join the program, users can visit the Swagbucks website and create a free account. Once registered, users can start earning points by participating in various activities on the platform. Points can be redeemed for a variety of rewards, including gift cards for popular retailers and online stores, as well as cash through PayPal.
Overall, Swagbucks is a legitimate rewards program that offers users a variety of ways to earn points and redeem them for rewards. However, it is important to note that the number of points that can be made through the program may vary and may not be sufficient to redeem for significant rewards. Additionally, some users may find that certain activities on the platform, such as taking surveys, may not be as rewarding as others. It is always a good idea to carefully evaluate the potential rewards and risks of participating in any rewards program before joining.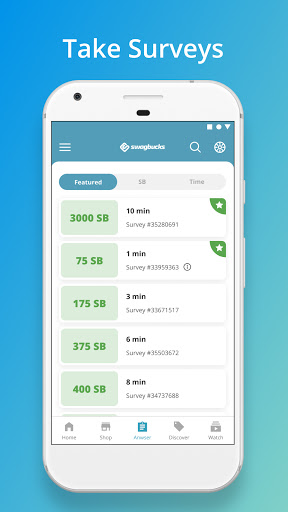 This is where Swagbucks comes into play, it is one of the oldest and best ways to make money online there is and not to mention one of the oldest, consistent payout which is one of the biggest things to look for in a company, do they actually pay, and these guys do on time and more importantly do not shave.
What do I mean by shaving? there is a legitimate thing a lot of companies do but they will not admit it, say for example you do a survey right to the very end but then you don't get credited your money, this may happen in 1 out of every 10 surveys this is called shaving.
And I'm happy to report Swagbucks do not do this, they have nearly paid their users 1 billion dollars since they started those figures alone tell you a lot about the company, a good rule of thumb is always to work for companies that disclose these figures and can be easily verified.
How Does It Work?
It is very simple, you can make money or Swagbucks as the company calls it by doing various tasks on-site, you don't need to worry if there are enough tasks for you to complete, there are some people who say they are overloaded, here are the ways you can make Swagbucks:
Completing surveys – the great thing about doing surveys is you can select the length of the survey, if you only want to do a quick 7 or 10-minute survey that is fine but if you want more Swagbucks the money is in the longer ones which vary in length but are normally around 20+ minutes.
Shopping online – this is a lot like Quidco or TopCashBack you just shop online using a link they give you and instead of them keeping the commission they pass it on to you.
Magic receipts – they will show you a list of products from grocery stores, if you happen to purchase this item with your regular shopping all you need to do is upload an image of the receipt, that is very simple.
Play games – not mind games but play online games, you just download one of the games to your mobile phone, get to a certain level and you will be rewarded with quite a lot of Swagbucks, this is the best way to make a fair bit of money.
These are the 4 main ways that they allow you to earn from their platform, it must be dressed that you cannot do every survey they show you this is because the survey owners are looking for certain demographics i.e. age or location if you don't fit this you are disqualified.
You can also be declined if they have too many people completing certain surveys, they don't tell you what part you have failed (or in other words what exactly they were looking for) in this case the best thing to do is just move on to the next survey.
Once you complete a task you will instantly be rewarded with your points, on the rare occasion you complete a task but don't get rewarded your points just send them a message (a link will be besides that task) and they will manually credit you, this is rare but does happen.
But don't be disheartened by that it happens to everyone plus they even reward you for failing surveys! as a thank you for your time and effort you can get up to 10 Swagbucks credited to your account, this is something most others companies do not do another reason to use Swagbucks.
Once you have earned your Swagbucks you can then do the good part, which is to turn your Swagbucks into cash or gift cards whichever one you want to do, if you want to exchange them for Amazon vouchers you can link up your Paypal account and get paid that way.
There are no waiting times you can do this instantly, it is best to wait until you have over 1000 Swagbucks credited to your account before you think of cashing them out, but it is entirely up to you. your points will stay in your account and will never be lost.
Swagbucks Sign Up
The sign-up process is very simple, head over to swagbucks.com and fill in your email and password, there is no long registration process where you are asked 1000 questions, it is extremely fast to get up and going, and the minute you log in you can begin making money.
Swagbucks Login
There are a few websites that pop up from time to time that try to steal your login credentials to Swagbucks, always log in from the main page and verify the site URL is swagbucks.com any other website is most likely fake and trying to scam your credentials.
Conclusion
If you are genuinely looking to earn some extra money and have the free time to do it you will not go wrong signing up with Swagbucks, I was very sceptical about these guys but from testing, you can make good money with them.
Do not get too excited you are not going to retire with this method but you easily can make $50 per week or more if you put in the effort as with anything in life you only get out what you put in the question really should be, do you have anything to lose?
Do not sleep on this method either hundreds of thousands of users are making extra money while you are sleeping, earn some extra money to put towards gas or just general everyday shopping be ahead of the game you can signup here. here is to your next Swagbucks paycheck!