Sqribble Review
This is a very nice little piece of software that is designed to create ebooks in a matter of a few minutes, if you are a budding author in the making and you want to quickly create ebooks to sell on Amazon or other ebook websites this could be just the thing for you.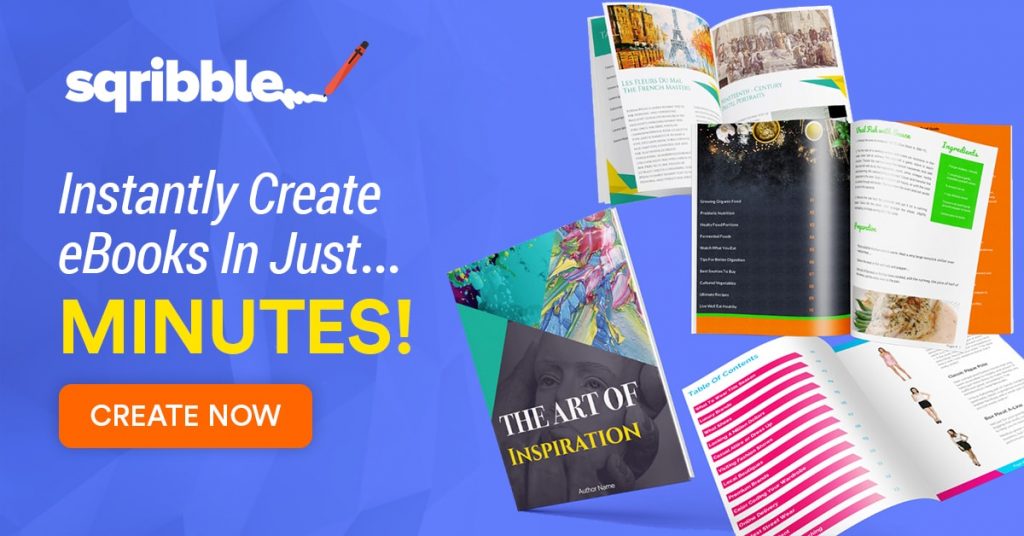 This is an amazingly powerful little piece of software that packs quite a big punch, you can very quickly create ebooks or reports in just a few minutes, with little to no hassle or any particular design skills, if you are like me, who has no design skills to speak of.

Before sqribble came out there was little to no other software that had the vast features it boasts or the simplicity in execution, you simply have 3 main steps to follow before your ebook is created:
You select a design style from one of their 50+ templates they have on offer.
You then add content, if you are a writer, it must be your own content, or you can use sqribbles library of ready to use articles.
You customize what you want the output to look like, make it all nice and pleasing to the eye.
Then you can pretty much just export the content you just entered into a ready-made ebook which you can then upload to your destination of choice, pretty simple right? this is where the simplicity that I love comes in, with no complicated steps involved.
You will need to of course format certain headings and paragraphs to keep it looking nice and professional looking but these steps are also easily done within the editor.
As well as downloading the software which is supported in both windows and mac versions you will get access to the following features and addons:
50 ebook templates.
15 profitable niche categories.
Automatic content generator.
Automatic table of contents.
Automatic headers & footers.
Automatic page numbers.
Intuitive drag & drop design.
Create unlimited pages.
Create and add your own media.

Plus lots more included which would take ages to cover …
As you can see at a glance there is a substantial amount of work that has gone into creating the sqribble software which is constantly updated and has new features added almost every few months, and trust me all those features are a nice addition.
The built-in features take a lot of the work out it for you the end-user in getting your ebook created, you don't need to wrangle with fancy designs, they have a template for pretty much everything which is another plus point to sqribble.
You are also allowed to create unlimited ebooks, there is no limit to the amount you can create, as they say as corny as it sounds the only limit is your imagination.
There is also quite an extensive guide on how to use the software, they don't leave you hanging like a lot of other companies in the same field do, I never used to look at instructions or guides before, but I have learned its an indication on how professional the company is.
You will also own the rights to any ebook you create with sqribble, this means you are allowed to sell anything you create and do not need to pay the owners of the software any money at all, it is easy to get caught out with this with some other software companies.
The beauty of using this software is you don't have to be an author to use it, it can be used for any type of purpose whether it be medical or even for schools just wanting to create a curriculum all the options and help you will ever need are there too.

Sqribble vs Designerr
This has been a long debate over the last year or so, which one is better sqribble or designer, the facts are they are both great pieces of software BUT in my opinion, sqribble has the edge over designer, when I started writing this sqribble review I loaded designer back up.
And when I did it just looked and felt plain boring compared to sqribble, everything from the user interface to the settings and options just did not flow well for me, I may in future write a more in-depth article on this, but for now, it has to be sqribble for the win!
Sqribble Free Trial
The company is no longer offering a free trial of the software but we have managed to get the next best thing for you, if you click on this link to their official website sqribble.com they have allowed our users to get a 7 day trial for just $3 with no obligation to stay on longer.
I think you will be pretty surprised and overwhelmed with all the options sqribble has to offer, remember you have no obligation to stay longer if you feel the software is not what you need, you will see using the trial if it works for you.
Conclusion
Do you like creating ebooks or reports in .pdf formats? if you want them done quickly and beautifully you will not go wrong using sqribble, the amount of options it has as well as templates is insane, and they try to add more monthly.
For what you are getting and for a one-time payment (no monthly fees like others charge) you can seriously not go wrong, it is the number 1 on the market ebook creator at the time of writing this, even if you have no design skills you can easily use the built-in ones.
Which will make your ebooks glow with professionalism, enough yapping from me, there is a 30-day money-back guarantee with this one in case you are not satisfied, give it a go, I wish I knew about this one when I was creating .pdfs using online converters years ago, it would have saved me a ton of time!