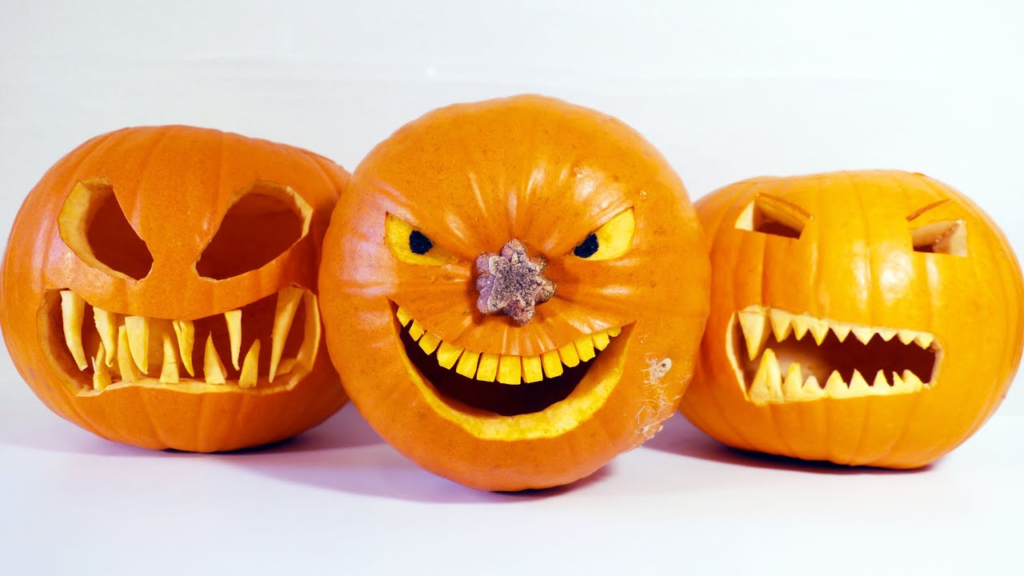 The air suddenly has a chill to it, the jackets and blankets are getting heavier and pumpkin patches are starting to open. Everyone starts to search for this year's costume and is hoping it will be better than next year, and the dusty decorations are coming out from the attic. Shops are starting to sell bulk bags of sweeties to give out in the goodie bags to the kids and Michael Jacksons Thriller is on the radio more and more. It Is finally Halloween.
But it comes to the point in the month when we all start to pick and carve our pumpkins, but even though it is a fun, enjoyable activity- because it gets everyone in the spooky season mood- some parts of pumpkin carving can be a pain. However, today, I am here to tell you all the best tips and tricks to make your pumpkin the best in the street!
Pumpkin Tip Number One!
The first pumpkin tip is the cake mixer! Now I know this may sound strange, but let me explain.
You may have seen this as it has gone viral on 'TikTok' a couple of times now, but If not, do not worry I will explain it to you!
What would you say the worst part of carving a pumpkin is? Is it thinking of the design to carve? Or is it trying to carve it using a knife? No. Personally for me the worst part- but it is still kind of fun- is scooping all the gooey guts inside from out the middle. Sticking your hands into the pumpkin's insides and then spending ages scraping at the sides with a spoon trying to get it all out can be a nightmare but there are many ways to fix this.
The seeds get everywhere, your hands get slimy, and it is time-consuming, but what if you could solve this all with one step? A cake mixer! Get an electric whisk and stick it in the middle! Put it on and whirl it around a little, letting it take all the seeds from the side. This is a much quicker trick to getting all the seeds out. Once the seeds are spun away, just tip them into the bin, scrape away any extra that is left- not that there will be much after this cool trick- and get to carving your design!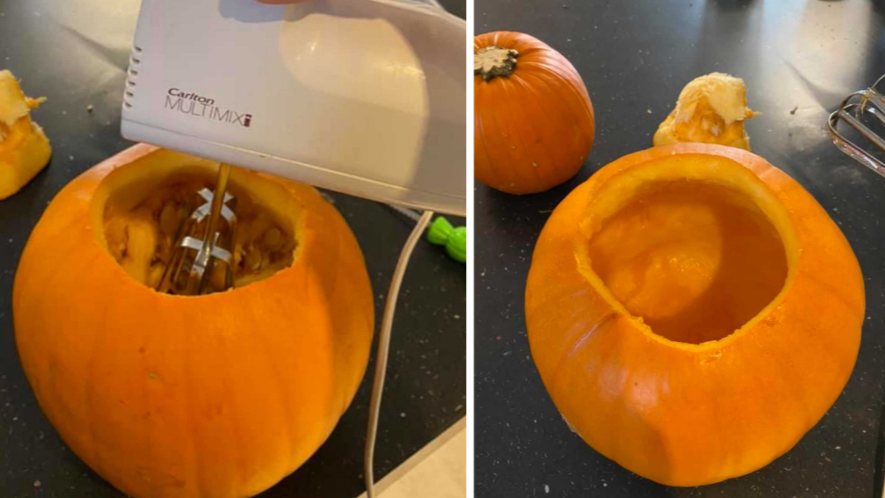 Pumpkin Trick Number 2!
The next trick is what we do with the inside after we get it out! Have you ever wondered what to do with the seeds and the guts? I used to before I found this hack, and now I will never chuck them into a bin bag again!
Separate the guts from the inside into one bowl, and the seeds into another, this may be time-consuming but trust me it's worth the time!
Just put your seeds onto a tray or a plate and dry them off a bit with a towel. They don't need to be dry just not wet. Spread the seeds out so that they are all separated, and then grab a few spices from your spice rack- my suggested seasoning is salt, paprika and Cajun, it is the perfect combo!
Sprinkle the seasoning over your seeds and then, either put them in the oven for 10 minutes at 180 or I like to use an air fryer at 180 for 12 minutes, just remember if you're using an air fryer you may want to take the tray out and give it a stir or a shake from time to time.
Take them outlining the bowl of guts, and once your roasted seeds have cooled down, eat them and enjoy!
Pumpkin Trick Number 3!
The third trick I will tell you about is cookie cutters! Carving pumpkins sometimes doesn't go well, sometimes your carve out the line you have drawn, or maybe you are just not very artistic, if so, this trick is for you! This is also a good one for kids, but make sure they are supervised as a hammer is involved!
If you are lucky enough to find a cookie cutter in the shape you want your carvings to go ahead and use that- but this viral TikTok trend has encouraged parents, and creators to show them finding all sorts of cookie cutters and making them into the perfect shape for a pumpkin!
Hold your cutter against the skin of the pumpkin, and gently but firmly hit your cutter into the skin with a mallet or hammer! Push it until it is halfway through, and then pop your carving out! It should leave a cool shape. making your pumpkin look neatly craved!
If you would like to see a video for reference, click here!
Pumpkin Trick Number 4!
The fourth and second last trick I will tell you about is scraping the skin! This makes your carving look realistic and artistic, and makes it go from a 7/10 to a solid 10/10!
Just take a veg peeler and scrape down the skin, making sure not to go all the way through, or it would just be a carving! I like to cut our eyes and smile, but scrape the skin down to the teeth, and also wee circles at the bottom of the eyes to work as pupils!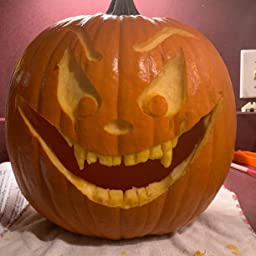 Pumpkin Trick Number 5!
The last but not least trick is a simple one, but it can look so cool! It makes your pumpkin look scary and creepy but it is such an easy and fun idea!
Carve out 2 eyes and a big, creepy smile, I like to add a turn at the edges of mine to make it look super creepy. Then, grab mini cocktail sticks, or cut down normal-size cocktail sticks and stick them from one edge of the smile to the top, making creepy-looking teeth! Layer them up, Overlapping each other and making them crocked and creepy!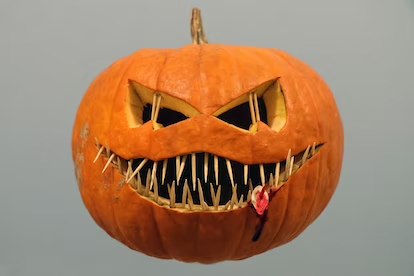 For more great reviews, tutorials and tips, click here!