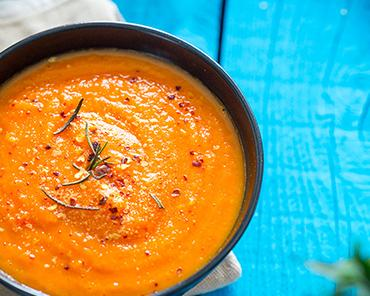 Are you feeling sick, and want something nice and warm to heat you? A good bowl of Sweet potato and tomato soup is the answer! Struggling to find a healthy meal to take for your lunch tomorrow? Sweet potato and tomato soup is the answer again! Do you want a good meal to sneak in a few veggies to the kid's diet, but have no clue what to make? Again, the soup! No matter what the situation is, this amazing soup is always the answer.
Super easy to make, with only taking 5 minutes to prepare and 25 to cook, it can be ready in no time! Not to mention it feeds 6, so that means the whole family's bellies will be full, and it only contains 157 calories each serving! So if you're cutting down on calories, feeding a whole family or even just in a bit of a hurry, this soup is perfect for you, not to mention how tasty it is!
Ingredients
1 tbsp. olive oil
1 red onion, roughly chopped
1 vegetable stock cube
1 medium sweet potato, peeled and roughly chopped
2 carrots, roughly chopped
2 red peppers nicely sliced
400g tin of chopped tomatoes
750ml water
Now, if your want to make the toast to go along with the soup, here are the ingredients, although we will mainly be focusing on the soup!
2 slices of brown bread
60g cheddar cheese grated
200ml light or regular coconut milk
Method
Start by doing the basics, washing your hands, cleaning the surface, getting an apron and tying back any long hair! The soup tastes even better when you know it has been made with good hygiene.
Then, heat your 1 tbsp. oil in a saucepan, just at low heat. Chop up your onion whilst you are waiting on the oil to heat up and then plop that into the saucepan! Pop the heat up to medium heat now and fry the onion in the pan for 5 minutes until it has gone soft.
Then, collect a measuring jug and weigh out your 750ml and add in the stock cube. Pour the water into the pan with the onion, then add your chopped sweet potato, your roughly chopped carrots, and the peppers and then add in your 400g tin of chopped tomatoes!
Season this with salt and pepper or you can wait until the soup is finished, to taste and decide if they need seasoned. Pop the lid onto your soup and allow it to simmer for 20-25 minutes stirring occasionally. You should start to smell the sensational smell!
For the toast, all you want to do is preheat your grill and sprinkle some of the cheddar onto one side of the bread. You then want to grill until it is melted, and then that's it! You can dip this into your soup once it is ready or I recommend a nice bit of bread and butter!
Now, blend your sweet potato and tomato soup in either a blender or use a liquidiser, and you can add the milk if you wish! Like I said earlier, at this point you can season again if you feel like it needs it, but it is completely up to you! Stir well to combine the milk and pepper into the soup!
Ladle the soup into the bowls and then the soup with your cheesy toast or your bread, just whatever you want to have along with the soup!
And now your sweet potato and tomato soup are ready for you to enjoy! I hope you love it as much as I do!
If you would like the recipe for delicious lemon and poppy seed muffins, just click here!
If you would like another recipe for this awesome soup, click here!