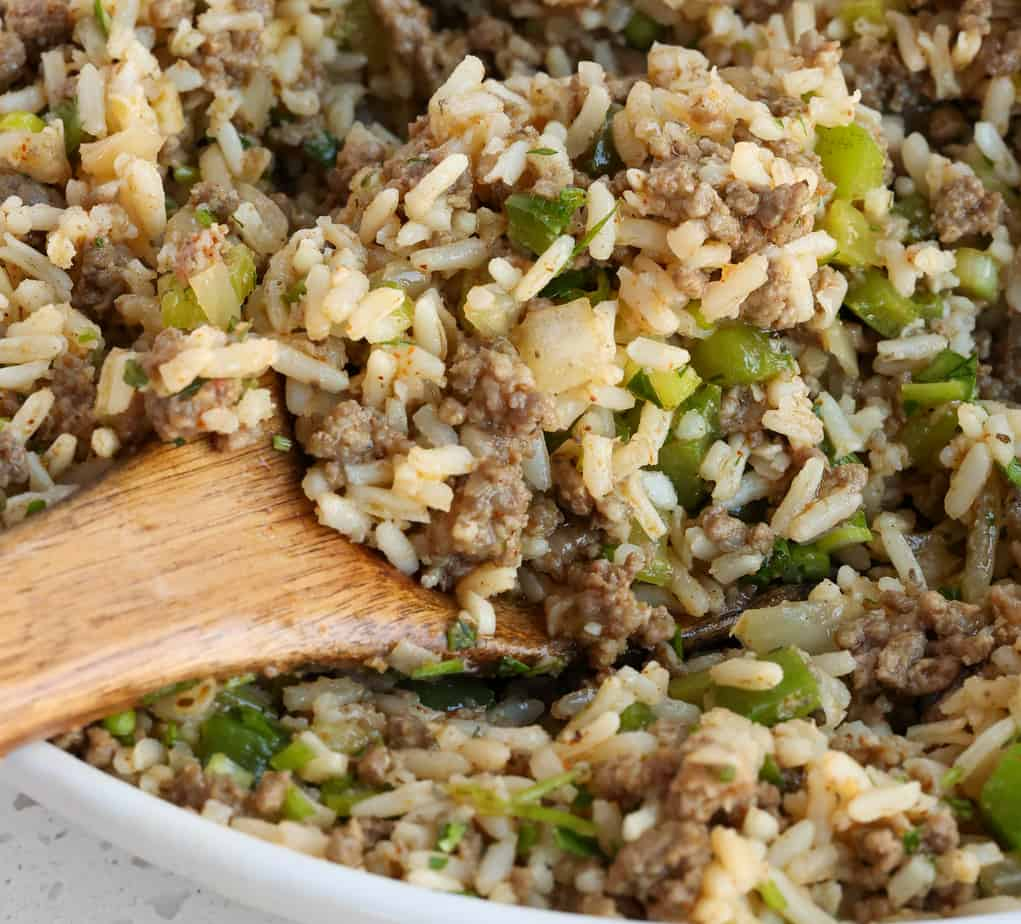 Are you looking for a healthy, new recipe to help you lose weight, see gains in the gym or just for a new dinner option? This delicious, spicy rice is the one for you. An amazing, easy and tasty recipe that will instantly become a favourite of yours just after one spoonful of it! Genuinely, my mouth is just watering thinking about this delicious, dirty, spicy rice recipe!
In this recipe, there is only 391 calories, 45g carbs, 35g protein, 7.5g fat, 2.2g saturates and 4.9 grams sugar- per portion! Do you see how healthy that is, but yet still full of flavour and tastes amazing! What is not to love about this recipe! It is amazing!
Dirty rice ingredients!
This recipe is quite optional with the ingredients, for example, you could take out the pepper, or you could add mushroom, small changes like that, but obviously I would try and avoid changing the quantities and volumes of spices, as this will just mess up the interesting flavours!
200 g long grain or basmati rice
400 g 5% pork mince
4 bacon medallions diced
1/2 red pepper sliced
1/2 green pepper sliced
1 red onion diced
2 sticks celery chopped
3 spring onions chopped
1 chicken stock cube
125 ml water
1 tbsp Cajun seasoning
1 generous dash Worcestershire sauce
1 bay leaf
low calorie cooking spray
And that is is! I also recommend sliced mushroom, if your a fan of them! It adds great texture and flavour to the dish!
Dirty, spicy rice method!
It is extremely easy to make this rice dish, trust me! Once you have collected all ingredients it does not require many tasks to actually put together the dish! So what are we waiting for! Lets get started!
Cook the rice according to the packet instructions according to the rice you have chosen, adding a bay leaf and chicken stock cube to water that you have brought to boil before cooking and adding the rice! Once the rice has cooked, set it to the side for later.
Add the stock pot to 200ml of boiling water and set aside (this isn't the water that you cook the rice in – this is separate)
Grab a separate frying pan and spray in your low fat spray- the low fat only adds in if you are making this meal as low cal as can be- then add in the mince, onion, bacon and mushroom until it is all cooked and brown!
Then add in Cajun seasoning and Worcestershire sauce to the fried mixture and stir in. Add in carrots, peppers and beef stock. Bring it to a simmer and cook until the peppers start to soften. Add in the cooked rice from earlier on, spring onion and stir it all together until all the rice is covered and coated.
Taste and add in cajun seasoning if you feel it is needed, salt and pepper also! If you would like to cool your mix down, add in a spoonful of sour cream or single cream, this will thicken the mixture as well so if you feel it is to runny then you can add some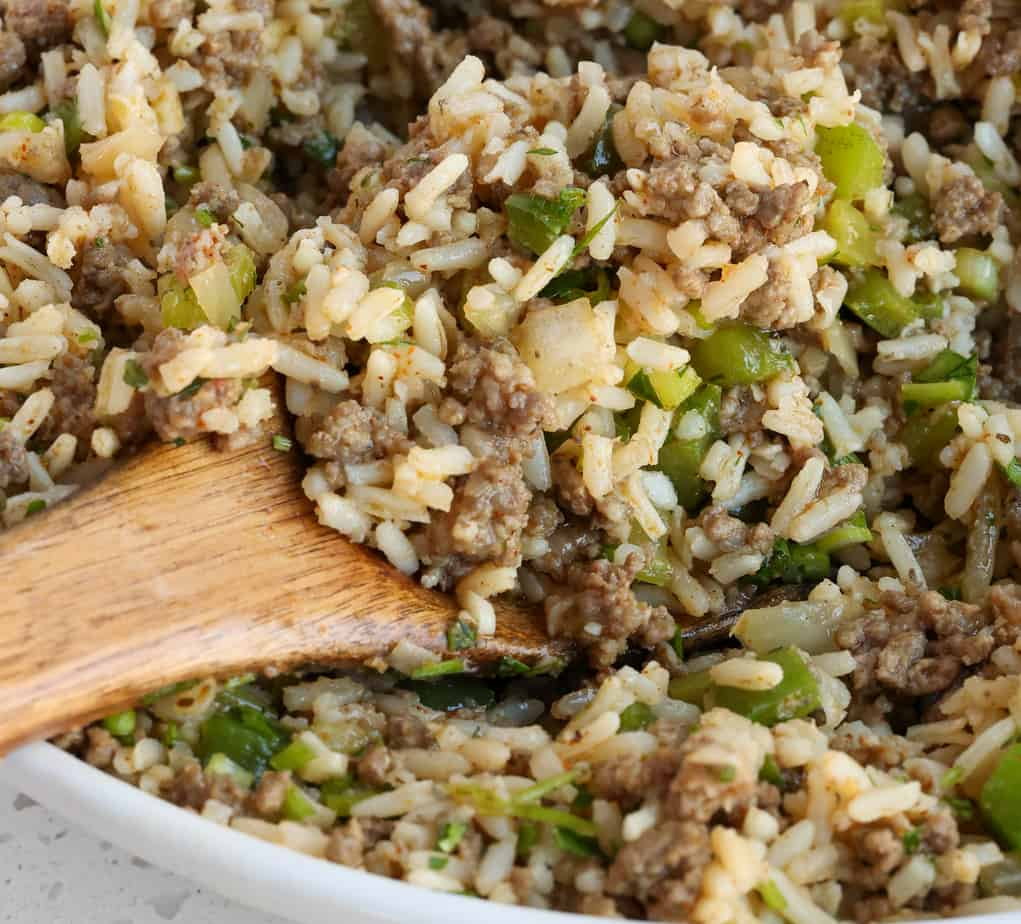 And that is it! Plate up your dirty, spicy rice and get ready to fall in love after your first taste! SO healthy, easy to make and overall it tastes so so good!
To buy the main, most important ingredient for this recipe, click on this link here!https://groceries.asda.com/search/rice
For more articles, reviews, recipes just like this healthy and tasty one and tip guide, just click on this link here! https://www.quiz-griz.com/
And you are complete you spicy rice! I hope you and your family enjoy it as much as I do!