Vidtoon Review – Is This The Best 2D Animation Video Software?
Vidtoon Review
I was recently recommended this software by one of my colleagues, it's a 2D animation video software that is surprisingly better than some of the big names with a small price tag attached. that was the part that hooked me, the smaller price tag if I'm honest.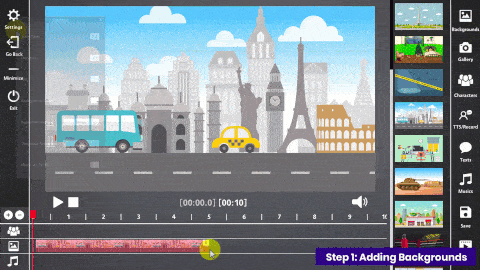 As you can see from the UI (user interface) above it is an easy software to get to grips with, it is drag and drop in most cases, something I particularly love, I go with the KISS philosophy (keep it simple stupid) that has never let me down in life.

After the success of vidtoon 1.0, the developers have made a sequel that adds even more features and depth to the 2D creative suite which has made this one my all-time favourite animation software.
Here is a couple of the new additions at a glance that we think has made this version even better than the last one. although we were pretty pleased with version 1.0 there is always room for improvements:
The speed in which the new editor reacts and loads in the backgrounds.
Many more languages have been added for a more global appealwhich means you can work with people all over the world using the same software.
Text can now be animated even better than before.
Using the latest Google and Microsoft voice recognition software you can create snazzy and clean voice overs.
Plus much much more …

Vidtoon 2.0 Animated Video Maker
With this video maker, you can export FHD (Full High Definition) quality videos with just a few clicks, some software I have used in the past can be extremely complicated to use, but vidtoon makes this process very easy.
You also get a free commercial license to use, which means you do not need to pay the software developers to use any of your work commercially, this is a great option especially if you are a YouTube vlogger.
There is also a vast library of clipart, backgrounds and animations you can use to quickly build your videos if you are on the newbie side of the scale when it comes to video editing. I use them in my YouTube videos personally and the quality has been amazing, Not only the quality but the speed in which I can put these together is impressive.
They also come with 20+ characters you can use in your animations, a doctor, a chef, a car, you name it and they will have thought of it already, sometimes the hardest thing is to make these characters, so it was quite refreshing to see them in the library.
On top of this, there are nearly 30 character animations like walking, running, on the phone or just plain throwing money in the air 🙂 whatever you need once again it will be (or should) be available for you to use.
HD (High Definition) backgrounds are already there too, although I feel there could be more, you can make your own and import them which is made with simplicity in mind when using the software.
Anyone can use the software if you are a blogger, vlogger or even an influencer it is so easy to pick up and in this day and age you need to stay one step ahead of your competitors, this is just the truth and simple facts of it.
The developer behind the vidtoon is Cindy Donovan, she is no stranger to video creation which is what prompted her to develop software like this that everyone can use and doesn't cost you an arm and a leg into the bargain.
In software age terms vidtoon is relatively new, only coming out in 2020, version 2 came out in 2021, and it's only going from strength to strength gaining nearly 10,000 happy customers in just a few months.
The drag and drop technology is one of the great things about the software, once you drop it into the timeline it is fully animated, there are no extra steps or rigging up you need to do, it is ready to go and export as you need it.
You can create videos that are up to 30 minutes long, these are particularly good for educational or training animations or if you just want to mess around with a cartoon series you have always wanted to create, the export speed is surprisingly fast too.
You also don't need to pay for any voice over actors, the option is built-in to turn any text you enter into speech with just a few clicks, this alone is quite a powerful feature to have.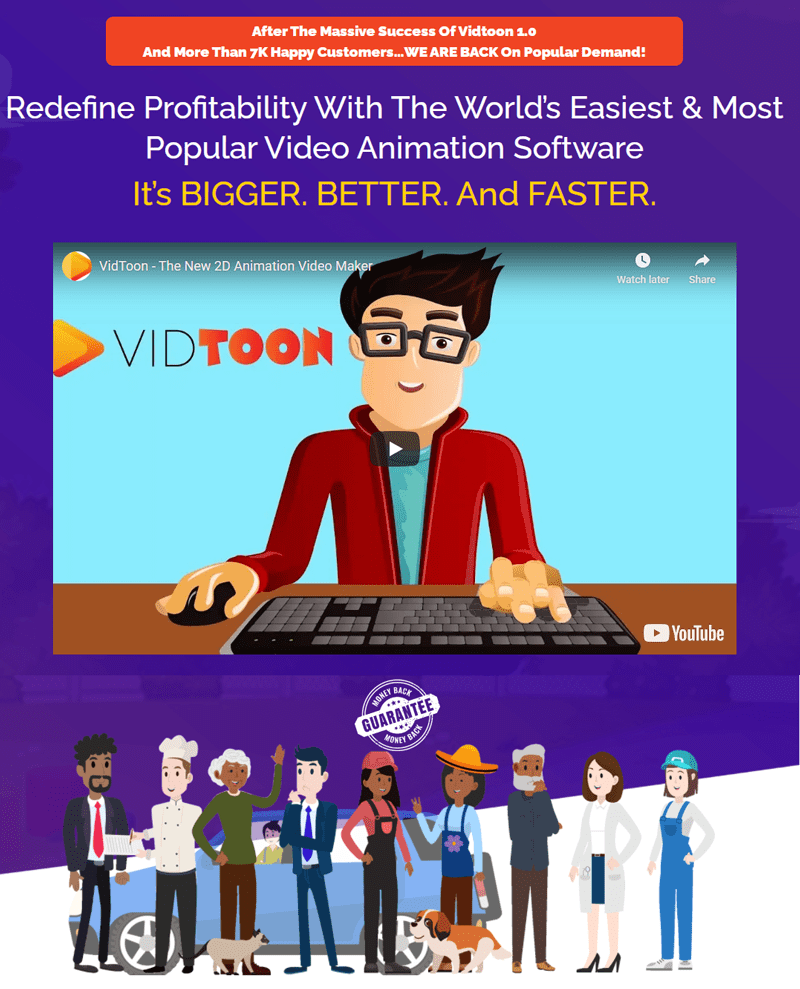 The thing that I must highlight in this vidtoon review and the feature I like best is the voice-overs, you can use Google and Microsoft which have already invented their own AI to speak on your videos and still sound authentic and not robotic like a lot of them can sound like.
You are free to install the software on multiple computers, they support all Windows editions and Mac, I have only tested it on Windows but the Mac version will be the same so you won't miss out on anything.
There is a huge market for funny animations, if you have an idea in mind you can easily accomplish it with this software in one of the easiest ways possible, it is far from complicated to use which is a nice change.
Conclusion
As someone who has used some of the most complicated animation software on the planet, this one is a breath of fresh air FINALLY no more bloatware with 1000 options and settings! this is just import, select, animate, and export.
I don't think you will be disappointed, especially with the available library of already made animations (1680 and counting!) you can quickly import, for the price $50 AND a 30-day money-back guarantee I think you will be happy with this one 🙂 Click below to read more.