Paying Social Media Jobs Review
In today's online world it is extremely important to have a social media presence you could almost go as far as to say it's mandatory if you want exposure and customers depending on your business model needs.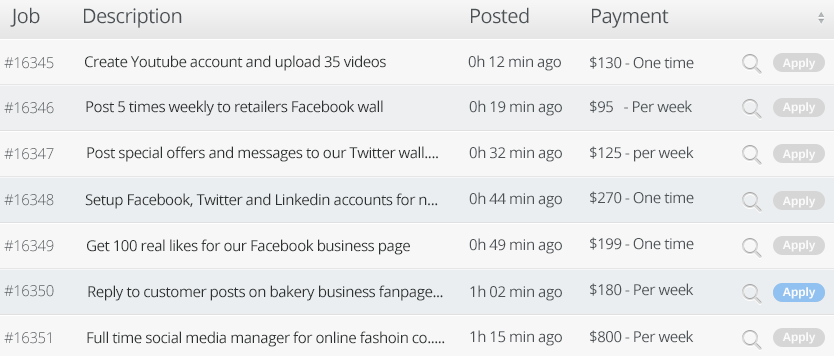 When I started to write this paying social media jobs review I started to think to myself, I like the idea of working from home full time and just tweeting here and there lol there is a little bit more to it than that I'm afraid.

If you look at the table above from one of these job sites we are reviewing you can see the money you can potentially make, you do need to stay at it and finish the job you start you cannot disappear halfway through which is why most of the people who start this get fired.
There are so many jobs you can apply to do, a lot of them from what I saw was from clothes retailers, they would send you a list of discount codes and offers and the dates they were happening so you would post them on that date and engage with the customers who had questions.
Plus there are so many social media platforms with a very high volume of users visiting, did you know Pinterest alone gets 1 BILLION visitors a month. the most common platforms you will be asked to post on are.
Twitter
Facebook
Pinterest
YouTube
Instagram
TikTok
Those platforms alone contain millions of businesses and billions of potential customers and they are growing every day. so there will be no shortage of work for you to do as long as you are willing to put the work in.
As a bonus sometimes companies will send you free samples of electronics or clothing so if you are tasked with dealing with customer queries you will have hands-on knowledge of the product, plus you get to keep it, I should stress this does not happen all the time.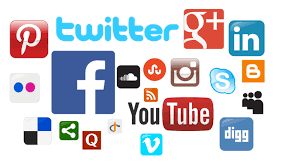 Do not be afraid if you are not into social media platforms, all of the above are very easy to use, there is nothing complicated about them at all, 10 years olds are posting to them as we speak 🙂

Paying Social Media Jobs Online
Have you ever looked at the social media accounts of celebrities like Paul McCartney for example, thousands of other celebrities or businesses do not post themself, they either don't have the time or the technical know-how to post on social media?
This is where you would come in (not for celebrities as they have their PR teams) but for millions of businesses who want more customers which equals more sales, which ultimately means more money for you.
There are so many ways you can make money online and the list of ways is growing each day, take advantage of the social media age and start making extra income by posting on Twitter and Facebook, millions of people do this every day anyway but the difference is you will get paid for it.
Paying Social Media Jobs Legit
I can tell you yes this is certainly legit, the woman behind this is called Annie Jones who has worked in the social media industry herself learning and building up her skillset, that is when she decided she could do it for herself and show others how you can comfortably earn money from your sofa.
Don't get me wrong you still need to do your part, if you apply for a job and get it you need to finish the tasks assigned to you, from what I saw there was nothing too complicated, you must be respectful of the customers as they are ultimately paying your wages.
You will be shown the exact steps to find new jobs which you can then even outsource to family or friends, leaving you more time to find even more new jobs, the money is there you just have to have the hunger to earn the money, so much potential money to be earned, if only I didn't work a 9 to 5 I may have done it longer.
Most of the world these days is defined by the internet, for example, your banking, if you had told me years ago you would be doing banking online I would never have believed it but here we are 20 years later doing exactly that.
Like anything in life the more you put in the more you get out, my advice is to also set aside extra time to do the jobs, if you work full time may be from 7 until 9 after you get your dinner, so you know in those 2 hours you will be working online and not to be disturbed.
Conclusion
This is a very neat little course to show you how to make extra money, making an extra $500 per week is extremely doable with this course from Annie. I honestly did not think you could do this but the proof is there, there are so many businesses (more than likely on your doorstep too) that are just not tech-savvy or don't have the time.
To be honest, it's normally a time factor, why don't you take over as their social media manager and post for them earning a nice wage while you are at it? like I said above there is no shortage of work, but there is a shortage of people willing to do the work.
Does sitting in your nightgown or pyjamas working from your couch posting on social media sound good to you? then give it a try, it is only $27 at the time of writing this review to get access, plus there is a money-back guarantee, get that extra cash while it is there.