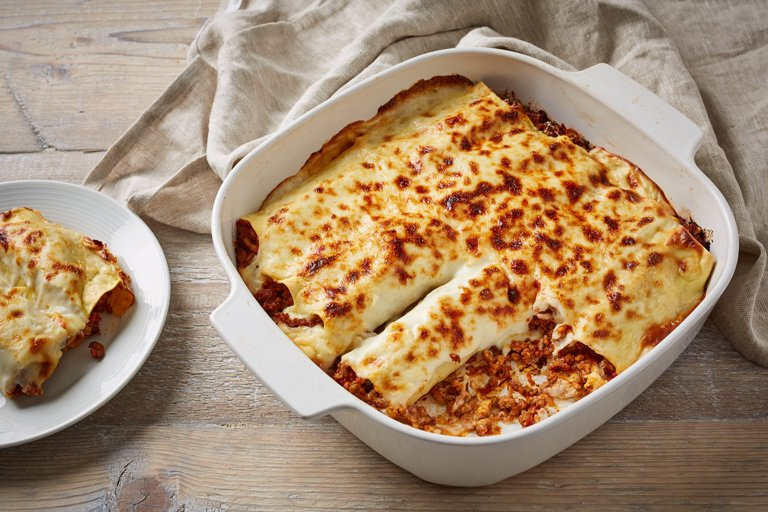 Beef Cannelloni. One of my all-time favourite recipes. If you are looking for an Italian, delicious recipe that the whole family will love, this is the one! But what is cannelloni? Cannelloni are a cylindrical type of lasagne generally served baked with a filling and covered by a sauce in Italian cuisine. Popular fillings include spinach and ricotta or minced beef. The shells are typically covered with tomato sauce. In Italy, cannelloni is usually eaten on holidays or Sundays- but we make it so delicious that it deserves to be eaten every day of the week!
This recipe does not take long to make, is super tasty for everyone to enjoy and you will have lots of fun making it! This beef cannelloni is one of my favourite recipes, so I hope it becomes one of yours too!
Cannelloni Ingredients;
to make this delicious recipe, there are quite a lot of ingredients but do not fear because as soon as you taste it, you will realise it was all worth it. This recipe is bursting with flavour, but requires similar ingredients to a tasty beef lasagne!
70g of carrot
200g of mince
50g of red pepper
20ml of tomato puree
50g of green pepper
300ml of beef stock
75g of onion
10ml of dried oregano
1 garlic clove
400ml of chopped tomatoes
75g of cheddar cheese
100ml of passata
1 rasher of smoked bacon
A Pinch of sugar
30ml of oil
12 cannelloni tubes
Oil for greasing dish
Seasoning for the finish!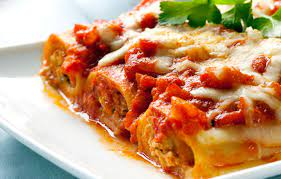 Cannelloni method!
To start today's recipe, make sure to complete your basic hygiene, and then we are going to move on to veg prep! Start by grabbing a carrot and wash, peel then rewash! Grate all the carrots onto a plate and weigh them out, and modify them to the correct weight!
Wash and deseed the pepper, and then cut the peppers into macedoine.
Peel and wash your onion, and then finely, evenly dice it, and then finely chop your garlic glove into extremely small pieces. Grab a plate and weigh out your cheddar cheese, grate the cheddar cheese onto the plate.
Get a red/ meat chopping board and then cut up your bacon into small even pieces. This is everything prepared, for now at least.
Grab a pan and heat 15mls of sunflower oil in it. Weigh out 50 grams of your onion and sweat it in either a pot or a pan for roughly 5 minutes. You will know when to add the onion if you add a small piece first and wait for bubbles to form around it.
Add the carrots and peppers to the oil, and cook for a further 2- 3 minutes, until the veg is starting to go soft, but do not overcook. Once your veg is cooked, take the pan off the heat and set it to the side on a pot stand until it is required again. At this stage, I recommend doing a bit of cleaning as you go.
Grab another pot or pan and add in your weighed-out mince. Cook the mince until it is brown all over, and then you can drain the excess fat from the mince. Add in your previously prepared bacon and cook for an additional 2 minutes.
Weigh out your tomato puree and then take the pan off the heat onto a pot stand, and add the tomato puree to the dish, you can also add in your recently cooked veg at this time. Add it back onto the heat for only about a minute.
Take the pan onto the pot stand again and add 150 ml of beef stock to the pan with the veg and mince and weighed out 2.5 ml of oregano. Add your pan back to the heat, stir well with a wooden spoon or spatula and allow it to simmer uncovered until the liquid has evaporated. Make sure to keep checking on it and stirring it in case it sticks to the bottom of your pan.
Once all the water has evaporated, take your pan onto a pot stand once again- taste and season with salt and pepper if required. Again get another pan- clean the one with the earlier veg in it if need be and heat your remaining sunflower oil in it. Sweat the rest of your onion in the pan and the earlier prepared garlic in it as well. Sweat this for 5 minutes until it goes soft.
Preheat your oven to 200 degrees or gas mark 6.
Add in the chopped tomatoes, the passata, the sugar, the remaining beef stock and the oregano to the pan- remember to take it off the heat onto a pot stand. Simmer this for approximately 15 minutes. Once it has simmered, allow it to cool slightly off the heat at the side.
Now it is time for the slightly messy, but super fun part!
Fill the cannelloni tubes evenly with the mince mixture and place in a single layer in a lightly
oiled ovenproof container, 22 cm × 22 cm approximate. If you don't want to be this specific that's okay, have fun with it! Taste and season the tomato sauce if required, and then pour the tomato sauce over the filled cannelloni. Sprinkle the cheese evenly over the tomato sauce and fill the cannelloni. Pop this carefully into the oven and bake it for approximately 20 to 25 minutes until the dish is cooked.
Clean the dish until it looks presentable and garnishes with oil and seasoning. Serve the dish hot and enjoy! Your beef cannelloni is done!
For many more recipes and great things like book and movie reviews, and even more tips- just click here!
If you want to purchase cannelloni, click this link here – https://groceries.asda.com/shelf/chilled-food/ready-meals/cuisine/italian-mediterranean/1215660378320-910000975205-910000975417-1215663383548